New Books in 2007
Prices when new are shown
December 2007
Master Play: The Style of Lee Changho (pub. Slate and Shell) £9.00
November 2007
100 Tips for Amateur Players, Vol 1 (pub. Oromedia) £12.50
Catching Scent of Victory (pub. Hinoki) £15.00
All About Ko (Mastering the Basics Vol 6) (pub. Kiseido) £10.00
October 2007
The Workshop Lectures Vol 3 (pub. Slate and Shell) £9.00
Contemporary Go Terms (pub. Oromedia) £15.00
September 2007
Perceiving the Direction of Play (pub. Hinoki) £15.00
July 2007
Pure and Simple: Takao's Astute Use of Brute Force (pub. Hinoki) £15.00
Dictionary of Basic Tesuji Vol 4 (pub. Slate and Shell) £17.00
April 2007
The Basics of Go Strategy (pub. Kiseido) £10.00
January 2007
Punishing and Correcting Joseki Mistakes (pub. Slate and Shell) £10.00

New Dan Grades
The BGA has recognised the new dan grades of:


8th July 2007:
4 dan Alex Selby 
4 dan Sam Aitken
2 dan Matthew Crosby
1 dan Ian Davis

January 2007:
6 dan Ben He
3 dan Felix Wang
3 dan Sam Aitken
3 dan William Brooks

December 2006:
1 dan Paul Tabor
1 dan Matthew Crosby

The title match is between the top two in the Challengers' League. In 2007 they were Alex Selby from Cambridge and defending champion Bei Ge from Buckingham.
Game 1 was held in Oxford on 21/07/07, with live commentary by Matthew Macfadyen on KGS. It was won by Alex.
Game 2 was held in Cambridge on 04/08/07. It was won by Bei Ge by 11.5 to equal the match at one all. This guarantees game 4 at Milton Keynes in October will be a crucial game.
Game 3 was held in Oxford on 15/09/07. It was won by Bei.
Game 4 was on 07/10/07 during the Milton Keynes Tournament. It was won by Bei who became British Champion for a second year. He also won the first prize of £350; the runner up received £150.
The Youth Grand Prix started after the 2006 London Open. The BYGC counted double points. It ended after the 2007 London, but the only late change was Maria Tabor moving from 7th to 4th by 1 point. Final points are:

1. William Brooks (3 dan)        780
2. Ken Dackombe (9 kyu)          566
3. Matthew Hathrell (6kyu)       496
4. Maria Tabor (5 kyu)           357
5. Hai Xia (3 kyu)               356
6. Hamzah Reta (18 kyu)          342
7. Steven Donlon (6 kyu)         320
8. Costas Televantos (12 kyu)    294
9. Roella Smith (30 kyu)         264

Stacey Points 2006-2007
There were three events up to Barmouth; there are some new names on the list, thanks to the varied attendance at the long events in Scotland and Wales. David Ward did well at Wales and Durham to take the lead and Chris Barnett became the first 4 kyu in the top 5 (because of low bars at Scottish and Durham). After Epsom David Ward was leading, but after Milton Keynes the presistance of young Will Brooks put him in the lead. After Trigantius Will was uncatchable, and the final points were:

1. William Brooks      30
2. David Ward          23
3. Francis Roads       17
4= Alan Thornton       16
   Sam Aitken          16
6. Ben He              15

Professional Visits
Guo Juan was the teacher at the 2007 London Open.
Korean Pros
Two Korean Baduk professionals visited the UK from 5th March 2007 to 10th March, following a hectic European tour. The two players were An Young-Kil (5p), and Lee Jung-Woo (6p). Both players are in their mid 20s, have been professionals for about 10 years, and are keen to make contact with Go players in the UK. Starting in that Autumn, Mr An was planning to live here for six months, both to study English language, and to continue with his work as a Baduk professional, but could not get a visa. During most of their tour of UK they were accompanied by Prof Hahn Sang-Dae, who visited the UK in 2006 with two other Baduk professionals. Visits were arranged to south-east Go clubs - Oxford on 6th, St Albans on 7th, Nippon Club London on 9th and New Malden, south-west London, on 5th and 8th.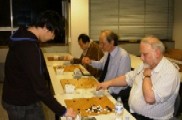 Japanese Pro
From 1st to 3rd June 2007 Kobayashi Chizu (5p) was at the Gardening Scotland Exhibition, at the Royal Highland Centre at Ingliston near Edinburgh . She played some games against a team of locals, and friendly games were played by the locals to attract the passers by.
Pros at MSO
An Young-Kil was part of the group visiting the Korean Ambassador's Cup during the MSO at Potters Bar on 27th August 2007. The other pro with him was Lee Kang-Wook (3p), a former winner of the World Amateur (in 2004).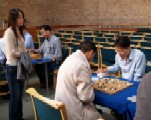 Go on TV
On "University Challenge", BBC2 24/09/07, the Newcastle University team failed to recognise a picture of a Go board, saying it was Chinese Checkers (they also didn't recognise Chinese Checkers).
On US comedy "Arrested Development" (BBC2 03/09/07) Korean boy Annyong was seen playing Go against Maeby at the end of the episode.
On Five's "Paul Merton in China" on 04/06/07 there was a brief glimpse of Go being played in the garden of a tea house in Chengdu.
On BBC2's "Eggheads" quiz on 18/04/07, a contestant called Ken was introduced as the winner of the quiz event at the first Mind Sports Olympiad. He explained that the MSO featured traditional board games such as Chess and Go, and other games less well known.
In the first episode of "Criminal Minds", shown on Channel 5 on 07/09/06 (repeated 25/08/07), the FBI agents find a Go board in a suspect's house. They derive that he was playing himself (as it is on a turntable) and that his player profile is extreme aggressor.
---
Next
Top
Previous
Archive
Last updated Mon May 08 2017. If you have any comments, please email the webmaster on web-master AT britgo DOT org.