120 players assembled for the first day of the 34th London Open, held again at ISH, Great Portland Street, though a few players expected did not arrive. Special guest was the teaching professional from Amsterdam, Guo Juan. In the Open it was the Chinese players (Shaoyou Ouyang and Ting Li) who would prove the toughest opposition to the favourite, the Korean from Berlin: Seul-Ki Hong. The top board in round 1 was not broadcast live due to a technical problem, but after that games are being broadcast over the Internet using Pandanet (IGS).
Game Record Round 1 Board 1 - Hong v Salo [2]
Game Record Round 2 Board 1 - Hong v Kuin [3]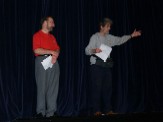 [4]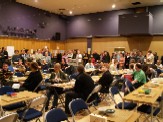 [5]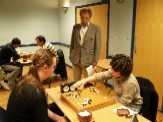 [6]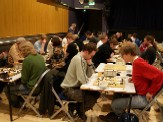 [7]
On day 2 there were some tough games between the 6 and 7 dans. After four rounds Shaoyou Ouyang from London and Seul-Ki Hong from Berlin were unbeaten at the top. Also on 4 were Paul Barnard (1 kyu Swindon), Xavier Chaumat (2 kyu Paris) and Piotr Radzikowski (6 kyu Poland). In the evening Guo Juan played simuls and the lightning tournament was held. 42 players took part and the 8 that won through from the group stage were: Davide Bertok, Jenny Radcliffe, Baron Allday, Antti Holappa, Anna Marconi, Jonathan Turner, Ting Li and Julio Martinez. In the semis Julio beat Anna and Ting beat Jonathan. Winner of the tense 7-stone final game was Julio Martinez (4 kyu Barcelona), beating Ting Li (6 dan Beijing). These two players received the prizes of £100 and £50 donated by the Nippon Club.
Game Record Round 3 Board 1 - Ge v Mero [8]
Game Record Round 4 Board 1 - Ouyang v Ting [9]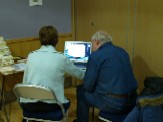 [10]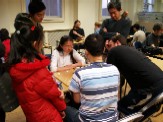 [11]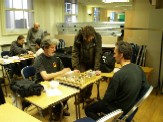 [12]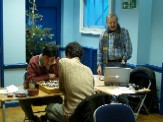 [13]
On day 3, Shaoyou Ouyang beat Hong and then Lluis Oh to take a clear lead. Hong and Ting ended the day on 5 wins. The three players unbeaten by round 4 won one more game each and were joined by 6 more kyu players on 5 wins. In the evening Guo Juan made a lecture to a crowded room, whilst 8 teams played the Pair Go Tournament. Winners were Dominique Cornuejols and Toru Imamura.
Game Record Round 5 Board 1 - Ouyang v Hong [14]
Game Record Round 6 Board 1 - Ouyang v Oh [15]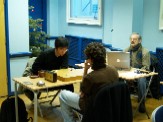 [16]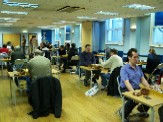 [17]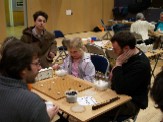 [18]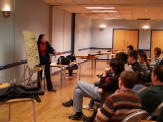 [19]
On day 4 there was only one game in the Open, the last round, as there was no round 8 this year. A huge crowd gathered to watch if Csaba Mero could upset Shaoyou Ouyang's unbeaten record, but he failed, allowing the Chinese 6 dan from London to be the worthy winner. Hong beat Ting Li in the crucial match for second place. Ting got third on SOS tie-break. All players on 4 wins got a London Open certificate and those on 5 or more got a marble paper weight. Winners of 6 games were Xavier Chaumat (2 kyu Paris), Piotr Radzikowski (6 kyu Poland), Peter Harold-Barry (9 kyu St. Albans), Arnaud Delattre (11 kyu France) and Edward Marshall (12 kyu Isle of Man). Just before the prize ceremony Guo Juan reviewed Shaoyou's last game and after it there was an informal 4-round Rengo tournament of twelve mixed size teams. The final was won by Spain's Julio Martinez and Lluis Oh, beating the UK's Jenny Radcliffe, Xinyi Lu and organiser Geoff Kaniuk. The last event was the New Year's Eve meal at a nearby Indian restaurant.
Game Record Round 7 Board 1 - Ouyang v Mero [20]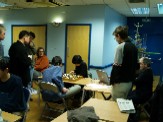 [21]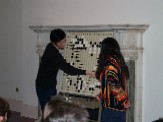 [22]

6th There was a record turnout of 42 players this year. Emerging top of the pile at the end to scoop the whisky was the Glasgow-based Swede Peter Dahlgren (2 kyu), followed by Piotr Wisthal (1 dan Aberdeen). One other player achieved 4 wins: James Hadfield (17 kyu Durham). Besides Piotr, a further 9 players achieved 3 wins: Alex Robertson (19 kyu Edinburgh), Rosie Handford (15 kyu St Andrews), Colin Morey (9 kyu Chester), John Shafer (9 kyu Durham), Jenny Radcliffe (8 kyu Durham), Ron Bell (5 kyu Melrose), Jim Cook (4 kyu Edinburgh), Colin Bavidge (3 kyu Newcastle) and Helen Harvey (3 kyu Manchester).
After Robbie Miller defeating Neil McLean in the 2007 final a month before, also determined were the 2008 Scottish championship semi-finals: Edwin Brady versus Robbie Miller and Piotr Wisthal versus John O'Donnell.
31 players took part this year. Shawn Hearn (6 kyu Bracknell) won all his games, beating Francis Roads (3 dan Wanstead) in the final. Ken Kneller (8 kyu Wanstead) also won all four games beating Andrew Bell (25 kyu London) in the last round. As well as Francis and Andrew, Andy Price (11 kyu Leamington), Mark Nubbert (4 kyu West Surrey), Neil Cleverly (8 kyu Bournemouth), Chia Hung Lin (6 kyu York University) and Pauline Bailey (16 kyu West Surrey) all won 3. The prize in the 13x13 competition went to Xinyi Lu (5 kyu Maidenhead). The Monopoly board quiz was won jointly by Malcolm Hagan and Pauline Bailey (aided by Gerry Mills). The James Bond theme tune quiz was won by Tony Atkins. On the previous day some 16 students were taught various subjects by teachers Bill Brakes, Francis Roads, Tony Atkins and Paul Tabor. Melissa Ridderhof was the best at Pits card game.
The National Space Centre in Leicester was again the venue for the second East Midlands Tournament. The 54 players could look at the exhibits for free between games or eat lunch under the jets of a rocket. Winner was a Chinese player from Nottingham, Hui Wang (4 dan); he beat Rujun Yang (3 dan) from Worcester in the last round. Some of the group from Aston School won all three: Hamzah Reta (18 kyu) and Mazhar Warraich (14 kyu). Also on three were Jonathan Green (9 kyu Leamington) and Alban Chauvin (3 kyu Teesside). Leicester Club won the team prize as two of their number won three: Ben Ellis (8 kyu) and Peter Roberts (18 kyu Derby).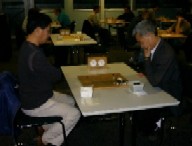 [26]
After a year break, the Wanstead Tournament was back on with new organisers at the usual venue of Wanstead House, the community centre in East London. A rush of late entries saw 46 players take part. Winner with 4/4 was the Chinese player living in London, Shaoyou Ouyang (5 dan). Trophies were awarded for three wins to Felix Wang (3 dan London), Jaeup Kim (5 dan Reading), Phil Beck (1 dan Cambridge), Roger Daniel (4 kyu Wanstead), Fred Holroyd (6 kyu Milton Keynes), Ed Wormington (6 kyu St Albans), Aurimas Jasulaitis (8 kyu), Richard Scholefield (11 kyu Milton Keynes) and Michael Webster (14 kyu London).
Tony Goddard (6 dan Sheffield) made it four in a row at the Three Peaks by winning all 5 games again. The tournament was held as usual in the Marton Arms in the beautiful North Yorkshire country and was the biggest for five years with 62 players taking part. Those winning 4 games were: Tim Hunt (3 dan Milton Keynes), Edwin Brady (3 kyu St. Andrews), Frank Visser (5 kyu Cambridge), Andre Cockburn (8 kyu Nottingham), Brian Timmins (8 kyu Shrewsbury), Anna Griffiths (9 kyu Epsom), Justin Neeves (12 kyu Manchester) and Jiang Beck (15 kyu Cambridge).
The Wessex Tournament repeated its new three round format and venue of the J.N. Fear Institute in Keynsham near Bristol, on the day the clocks went back. Regrettably it didn't get the support it deserved with only half the previous attendance at 24. As well as the BGA selling books, Bristol Club were selling off old sets and magazines. Winner was Jaeup Kim (5 dan Reading). He was the only player with 3/3 and beat Paul Christie (3 dan Bath) in the last round. Players winning the lower divisions were Ian Sharpe (2 kyu Bath), Neil Moffatt (5 kyu Cardiff) and Pauline Bailey (17 kyu West Surrey). Peter Collins won the Fred Guyatt 13x13 competition and Reading won the team trophy.
London International Teams 14/10/07
The autumn team event was held at the ISH, home of the Central London Go Club. The Central London Go Club team failed to use the home advantage this time and came last with 6 points. The winners instead were the Nippon Club with 9 points. China and Friends (8) and Wanstead (7) took the other two places. Players winning all 3 games were Shaoyau Ouyang, Andrew Jones and Hiroshi Tamura.
After a short interval of 15 years the Belfast Go Tournament returned. 22 players took part in the rather rapid event, held at the Crescent Arts Centre. It was won by co-organiser Ian Davis (1 dan Belfast) on 4/4. In Second place, on tiebreak, was Noel Mitchell (2 dan Dublin), ahead of Claas Roever (1 kyu Galway). Also on 4 wins was Costin Camarasu (17 kyu), while Arthur Cater (8 kyu) won 3 games. Many competitors opted to take a bye to play simultaneous teaching games with visiting 5 dan professional, Catalin Taranu.
59 players attended the Open University for the 19th Milton Keynes Tournament. Bei Ge was playing last year's winner Alex Selby in the Title Match so there was a new tournament winner. This was Shaoyou Ouyang (5 dan London) who beat David Ward (4 dan Cambridge) in the last round. Hui Wang (4 dan Nottingham) was equal second with David. Winning 3/3 were Andrew Simons (2 dan Cambridge), Paul Tabor (1 dan Epsom), Mark Todkill (3 kyu Wanstead), Edwina Lee (5 kyu Maidenhead), Peter Fisher (6 kyu Leicester), Gary Gibson (10 kyu Wanstead) and Dwayne McCormack (11 kyu Leicester). The best team was Wanstead. The MK Go winner was Reuben Margerison (18 kyu Leamington) with 7/8 and runner up was Jonathan Englefield (8 kyu High Wycombe) with a perfect 5.5. As well as the baked potato lunch, after the prize giving everyone was given a tasty Milton Keynes concrete cow biscuit before several players and organisers headed to a local Chinese buffet.
The 2007 Fife Go Tournament in Cupar was the most successful event yet, attracting 28 players from all over the UK. Again, the tournament was run as a Swiss handicap, and for the first time used AGA rules. The strongest player on 4 wins, and therefore the winner on tie-break, was Russell Ward (7 kyu Aberdeen). Also on four wins was Paul McKenzie (13 kyu Kinglassie). Prizes for three wins went to Gerry Mills (1 dan Swindon), Michael Smith (4 kyu Edinburgh), Jonny Kiehlmann (8 kyu St Andrews), Quintin Connell (12 kyu Glasgow) and Alex Robertson (20 kyu Edinburgh). After the tournament several players enjoyed a curry and some informal go in a local pub.
The 11th edition of the Swindon tournament was held, like last time, at the Even Swindon Community Centre. This year it was switched from November in order to help spread out the autumn events. 45 players entered and the winner was Jaeup Kim, the Korean 5 dan living in Reading. Prizes for three wins went to Alex Bell (2 dan Oxford), Jim Clare (2 dan Reading) and Helen Harvey (3 kyu Manchester). Also a prize went to Fred Holroyd (6 kyu Milton Keynes) for 2 wins and a walk over.
18 players took part in the Cornish Handicap Tournament [39] on the Saturday in Penzance. Winner of the Go Bowls trophy was Swindon's Eric Hall (5 kyu). He beat Bristol's Peter Collins (3 kyu) in the final. 20 players took part in the Cornwall Tournament on the Sunday. Winner of the tournament was Shige Uno (5 dan) who plays at the Nippon Club in London when in the UK. He would have received the Devon Go Stone but the trophy was not present. However he did receive one of the usual wooden stones, as did Rob White (5 kyu West Cornwall) for 3/3 and Elinor Brooks (8 kyu Swindon) for 2.5. Elinor also received a fan as best lady and John Culmer received a fan as the organiser, special gifts from Mr Uno.
The Northern was successfully revived as a one-day 3-round tournament in Stockport, at the Masonic Guildhall. 20 players attended on a rather damp day, and Gerry Mills brought the BGA bookstall. Matthew Ardron (10 kyu Sheffield) won a prize by winning all 3 games, but the overall winner was Norbert Bittner (1 dan Manchester) who also won all his games.
Held at the United Reformed Church in Potters Bar, Herts, the 11th MSO had several Go events. The final event on Bank Holiday Monday was the new Korean Ambassador's Cup. The top 8 UK players from the MSO Open battled over 3 rounds with a trip to Korea at stake for the second Korean Prime Minister's Cup. Winner of the final was British Champion Bei Ge. Second was Matthew Cocke. Third on tie-break was Alistair Wall. They all received engraved crystal glass trophies from Mr Choi, Director of the Korean Cultural Centre at the Embassy.
One event at the MSO on Bank Holiday Monday was the Rapid. Nine players played a five-round Swiss Handicap. Winner from Epsom was Matthew Selby (4 kyu), who was unbeaten. On 3 wins and taking the silver place and bronze places by tie-break were John Collins (17 kyu St Albans) and Xinyi Lu (5 kyu Maidenhead). Natasha Regan (1 kyu Epsom) was fourth and Matthew Hathrell (7 kyu Coventry) won the junior gold. This scored Matthew enough points to win the second place in the MSO Junior Pentamind. Second place in the adult Pentamind went to another Go player, Alain Dekker, who had played in the Small Board.
The main Open Go event at the MSO took place on the last Sunday. 26 players took part including some strong UK Chinese and two guests from Korea. It was the qualifying event for the Korean Ambassador's Cup (top 8 UK players). Winner with 4/4 was Kyung-Nang Kang, a 17-year old girl from Korea. Silver place went to Ben He (6 dan Glasgow) and bronze to Bei Ge (6 dan Milton Keynes). Others on 3 wins were Matthew Cocke, Felix Wang and Stuart Barthropp. Winner of the kyu division was Ron Bell (5 kyu Reading) with 4/4. Second was Nicholas Calderwood (8 kyu London) with 3 wins.
This year the Small Board Championship was held at the Mind Sports Olympiad (MSO) in Potters Bar. Natasha Regan (1 kyu Epsom) was winner of the national title on 13x13 boards. She beat Paul Smith in the final and took the gold MSO trophy for her 5 wins overall. Paul's 4 wins got him the silver trophy. Worthy winner of the bronze trophy and a gold junior MSO trophy was Oscar Selby (40 kyu Epsom), who is not yet 5 years old but won 4 games. 8 took part.
Sunjang Baduk, the ancient Korean variant of Go, with a fixed starting position, was the battlefield for this year's BGA online tournament. Of the 20 players competing, Norwegian player Roy-Andre Kirkebo was the winner, with an unbeaten 5/5. In second place was Oxford student Mark Nubbert, just ahead of Matthew Crosby. Steven Donlon won the prize for best player under 5 kyu.
The sixth Epsom Tournament was held in National Go Week like last year. It attracted 51 players, including two strong young ladies from the Baduk Department of Myongji University in Korea, who were staying the summer in St Albans. They ended up having to play in the final, in which Gook-hwa Park (6 dan) beat Bin-na Park (4 dan). All players on two and three wins got prizes thanks to sponsor Forbidden Technologies. Those with three were: Steve Bailey (4 kyu West Surrey), Andrew Cohen (14 kyu Cambridge) and Peter Harold-Barry (15 kyu St Albans). Ingrid Jendrzejewski (8 kyu Cambridge) won 2.5. St Albans won the team prize. Paul Tabor won the 13x13 side event with 3/3, and the 9x9 was won by Anna Griffiths.
53 of the best players from 10 school heats and other youngsters met for the finals of the fourth UK Go Challenge [51] at Meadows Community Centre in Cambridge. Section winners were:
U18 Boys  - Tung Nguyen (Greenwich Community College)
U16 Boys  - Matthew Hathrell (Finham Park School, Coventry)
U14 Boys  - Hai Xia (King Edward VI, Aston)
U12 Boys  - Ken Dackombe (St. Olave's)
U10 Boys  - Peran Truscott (Cambridge)
U8  Boys  - Ibraheem Mustafa (Birmingham)
U18 Girls - Kay Dackombe (Darrick Wood, Bromley)
U12 Girls - Christiane Walker (Milton, Cambridge)
U10 Girls - Hayley Baines (London Meed, Burgess Hill)
U8  Girls - Roella Smith (Milton, Cambridge)

Overall place winners:
1st - Hai Xia
2nd - Ken Dackombe
3rd - Matthew Hathrell

Top Boy: Hai Xia (6/6)
Top Girl: Hayley Baines (5/5)
On 5/6: Hamzah Reta, Abdel Badawy, Matthew Harris and Maria Tabor.

Champion School - Wellington School, Somerset (beat Aston 2-1)
Champion Primary School - London Meed, Burgess Hill (beat Milton 4-3)

Top Boy and Girl won an LG MP3 player kindly donated by LG Electronics UK Ltd. [52] All section winners also got a framed certificate showing their achievement. Aoife McCaul got the puzzle-solving prize and prizes were also awarded in an East Anglian Youth Grand Prix, thanks to support from Hitachi: 1. Matthew Harris, 2. Aoife McCaul, 3. Oliver Gerlach, 4. Owen Walker, 5. Roella Smith.
The 15th Welsh Open at Barmouth was won as always by Matthew Macfadyen (6 dan Leamington) putting him on 73 wins unbeaten at that event. Matthew Cocke (5 dan York) was second and Alistair Wall (4 dan Wanstead) was third, both on 4 wins. Prize winners with five wins were Vaughan Hughes (10 kyu) and Richard Bentley (7 kyu Durham). On 4 wins were Sheffield's Kester Sandbach (13 kyu) and Tom McNeeney (10 kyu), Manchester's Martin Cook (6 kyu) and Bristol's Peter Collins (4 kyu). 37 players took part and enjoyed the venue of the Min-Y-Mor Hotel and especially the carvery meal on Saturday evening, despite the generally rainy weather.
The home of BGJ Editor Barry Chandler in Winnersh (Berks) was the venue for the long weekend of the Challengers' League. The top players from the Candidates' joined with British Champion Bei Ge to decide who will play this year's title match. Bei took an early lead and won all seven games to take first place. Surprisingly Matthew Macfadyen only won 4 games; his losing scores only totalling 4.5! Alex Selby lost his first game, but then won his next 4 and the last one to end on 5 wins and clear second place; his wins against Matthew Macfadyen and Sam Aitken were both half-pointers. So Alex will challenge Bei Ge for the British Champion's title. This is only the second time since 1977 that the final will not involve Matthew Macfadyen, who ended third. Also on 4 wins was David Ward, on 3 Des Cann, 2 T Mark Hall and William Brooks, and on 1 Sam Aitken. Tony Atkins was referee and ensured all went well and with Barry's help four games at the weekend were broadcast live on KGS.
Durham, at St. John's College, attracted an attendance of 38, including some players from Norway. Guest lunch speaker Matthew Cocke (5 dan York) won all six games to take the first prize. Young Will Brooks (3 dan Cambridge) only lost to him to come second. Norway's Sveinung Fjaer (13 kyu) was unstoppable winning all 6 and Lars Eirik Danielsen (11 kyu) won 4. Also on 4 were dan players Tim Hunt, Christian Scarff, Allan Scarff and Andrew Jones. Sveinung Fjaer won the Lightning and Durham's Rich Bentley (7 kyu) and Andrew Thurman (12 kyu) jointly won the 13 by 13. Prizes were bottles of local Durham Brewery's best. Full report [56].
This year the Pair Go Championships, the 17th, were held again at the Foxcombe Lodge Hotel, Boars Hill near Oxford. Last year's winners Kirsty Healey and Matthew Macfadyen beat Natasha Regan and Matthew Cocke in the final, to take the championship for the eleventh time. In the 8-pair handicap group the winners were High Wycombe's Lydia Feasey (26 kyu) and Jonathan Englefield (7 kyu), at what was Lydia's first tournament. Best dressed pair again was Elinor Brooks and France Ellul and they also won the English Literature quiz with 39/40. Everyone who took part enjoyed the hot sunshine, the tasty buffet lunch and a choice of prize of oriental crockery and chopsticks.
The Scottish Open stayed at the Masons' Hall in the centre of Dundee and had the same number of players as last at 38. The winner of the Open was the strong Chinese from Edinburgh, Shaoyou Ouyang (5 dan), who won all six. Second on four wins was Claas Roever (2 kyu Galway) and Neil McLean (1 kyu Elgin) was third like the last two years. Also with 4 wins in fourth place was Tim Hunt (3 dan Milton Keynes). The only player on 5/6 was Markus Guhe (8 kyu Edinburgh). Thanks to sponsor Real Time Worlds, there were generous prizes of a bottle of local Cairn O'Mhor wine. One went to Japanese Consul-General Shuhei Takahashi who won all his three games and brought the news of visit of pro Kobayashi Chizu to the garden festival Edinburgh the following weekend. Prizes also went to Colin Maclennan (11 kyu Twickenham), Jenny Radcliffe (9 kyu Durham), Colin Simpson (16 kyu St Andrews), Ian Morrison (15 kyu Edinburgh), to David Bell (8 kyu Dundee) in the lucky dip and to Pete Clinch (10 kyu Dundee) as best muffin maker. On the Friday evening small board lightning the top scorers were Edwin Brady (3 kyu) with 6/7, and Andrew Smith (3 kyu) and Tim Hunt (3 dan) on 5/7
Out of the 55 players only two players won all 3 games: winner Sam Aitken (3 dan Warwick) and Julien Corcessin (11 kyu Reims). Best kyu player was Marika Dubiel (1 kyu Lublin) and best beginner was Sam McCarthy (20 kyu St Albans). Francis Roads won the caption contest and Jonathan Green (10 kyu Leamington) won the Go Puzzle competition. Graham Philips (7 kyu Cambridge) won the 13x13 (with 6/7) and the team prize was won by Leamington (with 9/13).
17 kids and a pair of parents took part in the first Midland Geographic Go Gala at King Edward VI School, Aston, in Birmingham. There was teaching in two groups in the morning and a 13x13 handicap tournament in the afternoon. Two Aston 26 kyus took the top prizes. Winner was Hamzah Retah with 5.5 out of 6 and second was Ismail Mustafa with 5. Brother and sister Matthew and Holly Hathrell (8 kyu and 25 kyu) from Coventry took the next two places with 4.5 and 4 wins. Also on 4 wins was Abdel Bedaway (30 kyu Aston). Harry Cutts (25 kyu Nottingham) got a prize for answering most questions during the teaching.
The Candidates' Tournament stayed this year on the May Bank Holiday weekend, at 6 rounds, and at Selwyn College in Cambridge. There were 23 players and four local ghosts taking part, from 2 kyu to 6 dan. Winner with a straight 6 was Matthew Macfadyen (6 dan) from Leamington. With 5 wins were Des Cann (5 dan) and Alex Selby (3 dan). The top four of the group on 4 wins also qualified for the Challengers' league: David Ward (4 dan), T.Mark Hall (4 dan), Will Brooks (3 dan) and Sam Aitken (3 dan). Tim Hunt was first reserve under the place last year tie-break. They will join Champion Bei Ge in the League in June.
18 players attended the Bar-Low kyu-players only tournament in Cambridge, part of the Mind Sports Olympiad weekend. Andrew Kay (1 kyu Cambridge) was the overall winner with 5 wins. Kay Dackombe (11 kyu Farnborough Village) and Ken Kneller (10 kyu Wanstead) won 4/5.
East of England Geographic Go Gala 28/04/07
About 20 kids and parents took part in the second East of England Geographic Go Gala at Milton School near Cambridge. There was teaching and Hikaru to watch in the morning, and most kids took part in a 13x13 tournament in the afternoon. Age group winners were U18 Tung Nguyen, U14 Ken Dackombe, U11 Aoife McCaul and U8 Yao-Chih Kuo. Players winning 4/6 were Yasmin McMullon and Matthew Harris and those winning 3 got prizes too.
London International Teams 15/04/07
Six teams attended the Nippon Club in Piccadilly for the spring International Teams match. The Central London Club were the victors for a fourth time in a row, with 10 points. However they only won on tie-break from China who also won 10 but had lost one more game. Other teams (points) were Cambridge (8), Reading (7), Wanstead (7) and Nippon (4). Unbeaten in all four games were Jaeup Kim, Francis Roads, Felix Wang and Matthew Reid. Alex Rix won 3/3, Ning Li 3/4 and Jonathan Chin 2/2.
Six teams competed for a stand-in for the Broken Go Stone Trophy and a handmade chocolate egg by Annie Hall. Edwina Lee hosted the event again at Bourne End Community Centre on behalf of Maidenhead club. The team from West Surrey won the event (Steve Bailey, Mark Nubbert and Pauline Bailey). Second equal were Swindon and Royal Standard (aka Wanstead and Reading). Players on 3/3 were Elinor Brooks, Xinyi Lu, Steve Bailey and Mark Nubbert. Entering the 10x10 at 100 kyu and so winning his first event was the very young Oscar Selby.

[64]
The first British Online Student Tournament attracted 16 entrants from universities and colleges all over the UK, and was won by Will Brooks (3 dan, Hills Road College), with 3 wins out of 3. In second place, and the leading female entry, was Vickie Chan (1 kyu, University of Warwick). Also putting in an impressive performance, winning all of his games (and hence a prize), was Asaad Al Tarifi (15 kyu, University of Nottingham).
William Brooks, Phil Beck and others from Cambridge ran the 40th British Go Congress at Selwyn College, Cambridge. The British Lightning took place on the Friday evening in the Diamond on the modern part of the college, across the road from the red-brick main building. It was played on the Swiss system. After 5 rounds Phil Beck (1 dan Cambridge) and Dave Buckley (1 dan Leamington) were unbeaten. Afterwards many retired to the pub to play Pits and so on.
The British Open attracted 98 players, including several 5 and 6 dans. The top boards were not in the Diamond, but in an "ivory tower", a room over the gateway to the old building. The sunny weather afforded a chance to review some games outside amongst the cherry blossom. At the end of the first day everyone was surprised that the leader was Sam Aitken (3 dan) who had beaten the past two British Champions.
The BGA AGM was held on the Saturday evening from 18:50 to 20:35 in the Diamond, after which tables had been reserved in three different Asian restaurants in town.
The winner of the Open was decided by tie-break in the end. Sam Aitken won ahead of Matthew Macfadyen, both on 5 wins. Also on 5 wins were Claas Roever (2 kyu Galway), Pawel Szymczek (4 kyu Poland), Andrej Sokolov (4 kyu Preston), Richard Bentley (8 kyu Durham), Ben Ellis (10 kyu Leicester) and Colin Maclennan (13 kyu Twickenham). Phil Beck (Cambridge) won the British Lightning, Graham Phillips (10 kyu Cambridge) won the 13x13, Sheffield won the Nippon Club Trophy for best team and William Brooks won the Stacey Trophy for most above-bar wins in 2006-2007.
The 2007 Youth Championships had 38 competitors aged from 7 to 17, with strengths from 3-dan to beginner, at Loughborough Grammar School. Prizes and places went to:
Overall winner: William Brooks (Cambridge) 2nd: Hai Xia (Birmingham)
U18: William Brooks (Cambridge) 2nd: Maria Tabor (Epsom)
U16: Matthew Hathrell (Coventry) 2nd: Costas Televantos (Aston)
U14: Hai Xia (Aston) 2nd: Steven Donlon (Burton)
U12: Ken Dackombe (Farnborough Village) 2nd: Tian-Ren Chen (Loughborough)
U10: Thomas Meehan (Solihull) 2nd: Bridget Johnson (Milton)
U8: Roella Smith (Milton)
Castledine Trophy: King Edward VI School, Aston
Team with most wins: Reading School
Winner of 10x10 side event: Emma Nash (Woodley)
Puzzle competition: Winner: Reuben Margerison (Rugby)
Fighting Spirit Prize: Samantha Paine (Woodley)
Four wins: Mark Amery (Milton Keynes) and Henry Mee (Wycombe Grange). 3.5: Hercules Pang (Loughborough) and Yoshiyuki Iizuka (Reading).
56 players attended this year's Trigantius, plus another 14 in the Novices event, held again at the University Centre. Jaeup Kim (5 dan Reading) was the new winner of the event, beating Andrew Jones (3 dan Wanstead) in the last round. Several players from Cambridge won all three games: Yuanliang Chu (2 dan), Suzanne Low (1 dan), Taka Obita (2 kyu), Andrew Kay (3 kyu) and Andrew Cohen (18 kyu). Also winning 3 were Michael Pickens (4 kyu Norwich) and Asaad Al Tarifi (20 kyu Nottingham). All on two wins were acknowledged with a choice of prize too. The Best Kyu Player cash prize was shared between Mathieu Flinders, Ukrit Mankong and Taka Obita. Ingrid Jendrzejewski won the caption competition.
In the small board Cambridge Novices' tournament [74] the winner was Tessa Holden from Milton Keynes. The previous day the first BGA invitational training event for children was held with 18 kids taking part.
[75]
69 players attended the Oxford Tournament at St. Edmund Hall. Winner was Sam Aitken (3 dan Leamington) winning his first open event. He beat Alistair Wall (4 dan Wanstead) in the last round. Players on 3/3 were Jim Clare (2 dan Reading), Paul Tabor (1 dan Epsom), Martin Harvey (3 kyu Manchester), Roger Daniel (4 kyu London), Paul Trebbett (5 kyu Walsall), Simon Eve (7 kyu Oxford), Colin Morey (10 kyu KGS), Alistair Turnbull (10 kyu Cambridge), Jonathan Green (12 kyu Leamington) and Anette Jensen (23 kyu Oxford). Prizes again were sponsored by Hoyles Games Shop.
Despite wintry weather preventing some from attending, 27 players again attended the Cheshire Tournament. This year, the 10th, it remained with the Chess Congress at Frodsham Community Centre. Winner of the Open section was Lianpeng Zhang (3 dan) who was visiting Nottingham from Xuzhou city in China; second was David Ward (4 dan Cambridge). Winner of the Handicap section [78] for the second time was Robin Hobbes (3 kyu Manchester) on 5/5. On 4/5 were Joe Stephenson (5 kyu Bolton) and Reg Sayer (17 kyu Stafford). Joseph Harper (Stockport) won the beginners/youth prize. 10x10 winner was Pat Ridley (16 kyu Chester) with 4 out of 7.
70 players attended the HQ of HITACHI Europe Ltd for the 16th Maidenhead Tournament. British Champion Bei Ge won 3/3 in the top group to win. Several other players won 3/3 namely Takuya Ogino (1 kyu Maidenhead), Marika Dubiel (4 kyu Poland), Eric Hall (5 kyu Swindon) and John Collins (19 kyu St Albans). In addition all on 2/3 won a prize thanks to generous sponsorship from HITACHI. Team winner was the Milton Keynes and Cambridge Alliance with 70 percent. Matthew Bolwell (7 kyu London) won the 13x13 prize.
---
Last updated Mon May 08 2017. If you have any comments, please email the webmaster on web-master AT britgo DOT org.