Note: The Shodan challenge for 2007-2008 is over.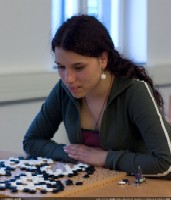 What is the Shodan Challenge?
The challenge within each kyu grade player is to get to Shodan (1 dan), but there are lesser challenges on the way. The Shodan Challenge is a system of learning and should be regarded as being like an evening class where you sign up and commit to regular study and serious play.
The last Shodan Challenge ran for a year up to the end of the 2007 British Go Congress and while several players made their objectives, it was clear there was not sufficient commitment by some Challengers.
2007-2008 Shodan Challenge
This year the Shodan Challenge will run up to the end of the 2008 British Go Congress, but it is only covering the autumn and winter months as these are the ones were often folk take evening classes, and enrolling to the Shodan Challenge should be seen in the same vein. This year we have ensured we have mentors committed to help challengers who are equally committed to progress through study and playing games. Mentors can tutor but many learn through discussion and debate - and play with peers, people of similar standard. We hope that Challengers and Mentors will reach out to the group as a whole to be a self-improving learning team and reap the rewards of a significant improvement in their strength.
Who is eligible to take the Challenge?
So this year again the Challenge is open to any BGA kyu player, though they must put in the effort to get significantly stronger, and commit to getting stronger at the outset. Significantly stronger is at least 3 stones stronger if they are double figure kyu or there abouts, and at least 2 stones stronger if they are single figure kyu. Ultimately the Challenge is to reach the Shodan level.
How do I get to Shodan?
The old proverb "play a thousand games to get to Shodan" tells us playing lots of games is important, but also we know there is more to it than that. The BGA Shodan Challenge provides support by ascribing a mentor to each Challenger. The mentors are stronger players who will share their experience and encourage the development of each Challenger's play.
This year's Shodan Challenge is now open. Registration closes on 31st Oct 2007. The success of your endeavours will be the improvement in rating you make by the close of the 2008 British Go Congress. Prizes will be awarded to the three most improved players.
Mentors
This year we have a limited number of Shodan Challenge Mentors, so we shall be looking for Challengers who can make a strong commitment to their own progress, supported by the Mentors.
Our Mentors currently are: Ian Davis; Paul Tabor; Steve Bailey; David Ward; Paul Christie; Brian Brunswick; Francis Roads; Matthew Holton; Alex Rix; Sam Aitken; Jeremy Hawdon; Nick Wedd.
A Community
The Shodan Challengers and Mentors will create a community, and it is hoped this will result in a community of learning, using the availability of on-line Go servers as a forum in which to look at problems, games and positions.
The British Room on KGS provides one obvious forum; distribution within the Challengers and Mentors of contact email addresses also provides a stimulus for the individuals to form their community in ways which best suit them.
Mentor Activities
The role of Mentor is to encourage the Challenger to study and play, and guide the Challenger by providing some or all of the following in whatever measure is practical for both Mentor and Challenger:
Game analysis
Teaching games
Problems
Subject Focus
A monthly report from Mentor and Challenger to the Challenge email address will be helpful as a focus on progress for the individuals and to flag any issues and needs as they arise.
Monthly Focus
Last year was a learning year; we learnt that a skeleton curriculum might help give direction to the learning as a tutorial group. The suggested framework is:
September - Life and Death
October - Joseki
November - Attack and Defense
December - Thickness and influence
January - Whole Board thinking and learning from professional games
February - Tesuji and fighting skills
March - Openings and Strategy
Is there any teaching and training for all Shodan Challengers?
As per last year, we hope to organize some lunchtime talks at selected tournaments to further assist your progress. Each teaching event will be a 30 minute talk to help you get stronger. They will also be open to other tournament attendees.
How do I accept the Shodan Challenge?
If you wish to accept the Shodan Challenge, complete the application form.
Applicants will be paired with a mentor, and your progress and improvement can begin.
Note that all challengers must be a member of the BGA. If you are not a member please enroll first via our membership page [2].
Contact
If you have any queries contact:
shodan_challenge at britgo.org
Last updated Sat Nov 23 2013. If you have any comments, please email the webmaster on web-master AT britgo DOT org.