UCC in Cork ran their second tournament of 2009 in November, though it was of course in a different acedemic year from that in January. It was again held over two days and five games and 18 players took part. Local Chinese player Wang Wei (6 dan) was the winner for the third time, despite losing a handicap game. Cao Tong Yu came second again and Eoghan Barry (5 kyu) again won four games.
The 20th IAPGC started on 14th November in Tokyo. Matthew Macfadyen and Kirsty Healey won their second game against Guatemala having lost their first game to a Japanese pair. In round 3 they lost to Germany, but in round 4 beat Netherlands. In round 5 they lost to another Japanese pair, ending 19th. China lost in round 3 to a Japan pair, but ended on 4 wins, and Chinese Taipei lost to Korea in round 4, so the final was Korea vs Japan pair Oda and Nagayo. The Korean pair, Ye Seul Song and Sang Heun Lee won. Matthew and Kirsty won the Best Dressed Prize.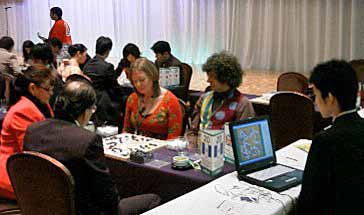 66 countries were represented at the fourth International Baduk Championships in Jeonju city, in south-west Korea. Winner this year was Hong-Suk Song from Korea with 7 wins. Second and third with 6 wins were China and Hong Kong. Japan topped the group on 5, which also incuded players from France, Serbia, Slovenia and Ukraine. UK's Alistair Wall beat Portugal and India to take 54th place whilst Olivier Deme, representing Ireland, beat Guatemala and Costa Rica in 59th.
The European Team Go Championships was held in Pitesti, Romania. 25 teams from 11 countries took part. The Romanian first team of Catalin Taraunu, Cristian Pop, Dragos Bajenaru and Cornel Burzo won all their 20 games to take first place. Serbia was second and Hungary was third.
The fifth European Student Go Championships was held in at Warszawska Szkola Reklamy in Warsaw, Poland. 20 students from 8 countries took part in a six round McMahon. Jun Tarumi (5 dan) from Germany was unbeaten winner. Pal Balogh (6 dan) from Hungary was second with 5 wins and Igor Nemly (5 dan) from Russia was third. Top female was again the 3 dan from Germany Manuela Marz.
The European Women's Goe Championship took place in Mikulov in Czechia. Twelve women from seven countries fought for the title. The winner of the European Women's Goe Championship 2009 was Rita Pocsai (4 dan) from Hungary. UK's Natasha Regan (1 kyu) won 2 games.
Again the Czech event in Brno was a major in the Pandanet Go European Cup. 138 players attended. Hwang In-Seong, the Korean from Germany, was the winner with 6/6. Romanian Cristian Pop ended second with 5 out of 6.
The 25th US Go Congress was held at George Mason University in Fairfax, Virginia, near to Washington DC. 366 played in the Open, which Myung-Wan Kim won for a second year running. The highest score from the UK party was Ian Davis with 5/6. Andy Liu won the Ing Masters, beating three pros on the way: Feng Yun, Yilun Yang and Mingjiu Jiang.
The 53rd European Go Congress, sponsored by Zhuyeqing Tea, was held at the Hampshire, a conference hotel in Groningen in the north-east Netherlands. There was a double celebration at the closing party as the local club celebrated 40 years and the national association celebrated 50.
586 players took part in the main tournament, including some strong Koreans as usual. Jun Sang-Youn of Korea was in first place after the first five games. At the end, the top group of Koreans all ended on 8 wins, and the top Europeans were in the group on 7. They had to be split by SOS. Kim Eunkuk became the European Open Champion, equal on SOS with Hwang In-Seong - but had won their match. European Champion by 2 sos points was Alex Dinerchtein. 13 British players took part: Martha McGill (4 kyu Belfast) was highest scorer with 7 wins and T Mark Hall, the only British dan player there, was the highest placed at 74 with 5 wins.
Kim Eunkuk (8 wins)
Hwang In-Seong
Kim Joon-Sang
Oh Chi-Min
Jun Sang-Youn (7 wins)
Alexandr Dinerchtein
Catalin Taranu
Csaba Mero
Cristian Pop
Rob van Zeijst (6 wins)
68 pairs took part in the Pair Go Championships. The final was won by Chang Cheng Ping (1 dan pro) from Taiwan and Siu Hong Chung (2 dan) from Netherlands, beating Guo Juan (5 dan pro) and Lin Liu Zhi (2 dan) from the sponsor in China. Russia's Ilya Shikshin won both the handicap 9x9 (beating an 8 kyu in the final) and the 13x13. Second in the 13x13 was Robert Jasiek from Germany. In addition there was a Rengo event and a Lightning Tournament in which the final stages were played in city centre bars.
At the EGF AGM, Martin Stiassny took over from Tony Atkins as President; Tony now is the Secretary replacing John Gibson. New Vice-Presidents are Jana Hricova and Leszek Soldan.
374 players took part in the Weekend Tournament. After four rounds Kim Joon-Sang was unbeaten in the top group, but was beaten in the last round by Ilya Shikshin. These two and Jun Sang-Youn and Kim Eunkuk ended equal on four wins and shared the cash prize. After sos tie-break: 1st Kim Joon-Sang, 2nd Ilya Shikshin and 3rd Jun Sang-Youn. Kathleen Timmins (13 kyu Shrewsbury) won 4/5.
206 players took part in the Rapid, held on 9 afternoons. Unbeaten winner was Oh Chi-Min. Second with 8 was Kim Joon-Sang and third with 7 was Kim Eunkuk. The top European players won 5 games, as did Richard Mullens (6 kyu St Albans) and Alice Bradley (15 kyu Lincoln).
The Hamburg Affensprung (Monkey Jump) was attended by 195 players; it was a major in the Pandanet Go European Cup. Again it was mostly Koreans who did well this year. Winner was Oh Chi-Min with 7/7. Second was Hwang In-Seong with 6, and on 5 was Zou Jin from Leipzig.
The 30th WAGC was held at the Ecopa Arena in Fukuroi city in Japan's Shizuoka prefecture. 66 countries took part. Unbeaten winner was Yuqing Hu of China. Scoring 7 were Korea's Shin-Hwan Yoo and Hong Kong's Nai San Chan. The group on 6 wins were Chinese Taipei, Japan, Singapore, Laurent Heiser of Luxembourg, Thomas Debarre of France and Ondrej Silt of Czechia. Canada topped the group on 5 to come 10th. UK's Matthew Cocke won 4 games to take 33rd; he beat Turkey, Vietnam, Lithuania and Belarus, and lost to Canada, Australia, Finland and Malaysia. Ireland's Brian Gallagher was 52nd with 3 wins; he beat Cyprus, Philippines and Chile.
Amsterdam, a Pandanet Major in the Pandanet Go European Cup, was held as usual at the European Go Centre. 81 players took part this year in the 39th edition. Winner was the Korean 7 dan from Germany, Oh Chi-Min. Zhang Yanqi from France came second. Good results were achieved by Galway's Claas Roever (5 wins) and Cambridge's Matthew Reid (4 wins).
Yet again Korean's dominated the top of the results table. Oh Chi-Min won and Lluis Oh came second. 62 players took part at Madrid.
The same weekend as Madrid at Kragujevac in Serbia the winner was Nikola Mitic. Both were PGEC events.
A total of 20 pairs from 12 countries took part in the European Pair Go Championships held in Prague. Winners on 6/6 were Russians Natalia Kovaleva and Dmitrij Surin. This was the fourth win in row for Natalia and the third for Dmitrij. Second on 5/6, were Jitka Bartova and Jan Hora from Czechia. On 4 wins were two Romanian pairs, one Hungarian pair and two more pairs from Czechia, of whom Romanians Adelina Sora and Cornel Burzo took the third place.
The first event of the new Pandanet Go European Cup season was in Bled in Slovenia. Hwang In-Seong and Ting Li both ended on 5/6 and equal first. 53 players took part.
347 took part in the 37th Paris Open, including a large party from the Ukraine. Oh Chi-Min, the Korean living in Germany, was the clear winner. Second on tie-break on 5/6 was Fan Hui from France, third was Hwang In-Seong, also Korean from Germany, and fourth was, commendably, Antoine Fenech from France. The only Brit taking part was Andrew Kay, who got a good result with 3 out of 6 at 3 dan. In the European Cup rankings [7] first was Ondrej Silt who scored 81 points from 7 events. Second with 44 was Pal Balogh and fellow Hungarian Csaba Mero was third.
The 20th Irish Open was held as usual in the Teachers' Club in Dublin and again this year was part of the Pandanet Go European Cup. There attendance was 44, including two 7 dan Koreans from Germany.
The Irish Rapid [8] handicap tournament on the Friday evening had 18 players and was won by Oh Chi-Min (7 dan). Second was Anna Griffiths (8 kyu) and third was Javier Fernandez (3 dan). In the Open, the winner for a second time was Hwang In-Seong (7 dan) with 5/5. In second place was Oh Chi-Min with 4 wins. The group on 3 wins were Csaba Mero, Wei Wang and Javier Fernandez. Winning four games were: Albert Sanchez (1 kyu), Helen Harvey (3 kyu), Jonathan Decembry (8 kyu), Milos Podpera (9 kyu) and David Horan (10 kyu). Anthony Pitchford (11 kyu) won all 5 games.
This took place in Baja Luka in Bosnia. 43 under-18s and 40 under-12s took part. Winner on tie-break was Israel's Ali Jabarin (4 dan). Second was Artem Kachanovsky (5 dan) from Ukraine, also on 5 wins. Winner under-12 was Mikhail Sidorenko (2 dan Russia) on 6 wins. Second was Dmitri Miliutkyn (4 dan Russia) with 5 wins.
As usual 16 representatives from around the world took part in the World Student Oza Championships, the seventh, in Tokyo. Winner was Zhao Wei from China. Jie Lee from the USA gave the best ever western results ending second. Best of the three European players was Jan Hora from Czechia who won two out of four (10th). The other two were Klara Zaloudkova from Czechia (14th) and Igor Nemly from Russia (13th).
24 of Europe's top players travelled to the EGCC in Amsterdam for the Ing Chang-Ki Memorial. First for a fifth year was Fan Hui (from China but living in France), winning all 6. Second was Guo Juan, who only lost to Fan Hui. The group on 4/6 was Dinerchtein, Taranu, Pop, Shikshin, Silt and Burzo.
The same weekend as Maidenhead, UCC in Cork ran their second tournament with 16 players. This time it was over two days and five games. Excitement came in round 2, when wind damage to the university buildings caused evacuation to a nearby pub that was using candles until they could get their lights back on. Local player Wang Wei (7 dan) was the winner for the second time. Cao Tong Yu came second, with Javier Fernandez third on tie-break. IGA Secretary Eoghan Barry (7 kyu) won four games.
---
Last updated Mon May 08 2017. If you have any comments, please email the webmaster on web-master AT britgo DOT org.