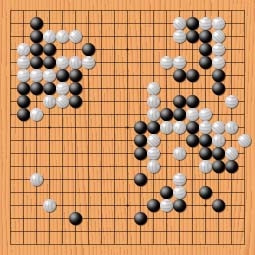 The Open University and Milton Keynes Go Club is about having fun while playing go. To this end
we meet twice every Tuesday
: from 12:15 in the cafe area of the catering hub on the OU campus, and from 6:15pm in the Wetherspoons pub, 201 Midsummer Boulevard, Central Milton Keynes (
map
). We are affiliated to the
OU club
and the 
British Go Association
.
Where we meet
These maps of the OU campus [4] should let you find the Catering Hub, where we meet from 12:15 on Tuesday Lunchtimes (look for us on the sofas near the coffee bar). Alternatively here is a Google map [5].
This map of central Milton Keynes [1] may help you to locate the Wetherspoons pub in Central Milton Keynes where we gather from 6:15pm on Tuesday evenings. The pub is the right-most brown rectangle, just under Bouverie Square. If you walk up Midsummer Boulevard starting at the station, it is on your left after a few hundred metres. As you go in the door to the pub, look for us on the left. Do not be confused by the fact that there is another Wetherspoons owned pub (The Secklow Hundred) also on Midsummer boulevard.
Other activities
Lots of club members go to lots of go tournaments [6]. This means that wecan share the driving and then go out for a meal afterwards as a group. Our results in tournaments [7] range from brilliant to disastrous.
Once a year until 2016 we ran our own tournament in Milton Keynes and hopefully will do so again sometime. You can see the results of the tournaments by following the appropriate links: 2016 [8], 2015 [9], 2014 [10], 2013 [11], 2012 [12], 2011 [13], 2010 [14], 2009 [15], 2008 [16], 2007 [17], more ... [7].
In 2001 we introduced an innovation as a side event: the Milton Keynes go board [18].
We like to introduce new people to the game. Go is quite an easy game to learn, it is only winning that is difficult. We can teach you to play in a lunchtime or evening.
Contact us
To find out more just turn up to one of our meetings or contact Tim Hunt [19], 07850 119939.
Alternatively, you can add yourself to our email contact list which is run for us on the OU's list system [20]. You need to enter your email address, then find the list called 'club-go-list'.
Comments on this page to Tim Hunt [19].
Last updated Tue Oct 15 2019. If you have any comments, please email the webmaster on web-master AT britgo DOT org.