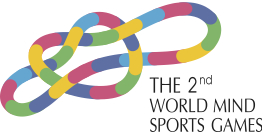 We're pleased to be able to announce that the UK team for the events at the forthcoming World Mind Sports Games in Lille, France during August is:
Men's Individual (13th-16th August)
Chong Han
Andrew Simons
Paul Tabor
Henry Manners
Women's Individual (13th-16th August)
Vanessa Wong
Natasha Regan
Anna Griffiths
Team (17th-19th August)
Team A
Vanessa Wong
Chong Han
Matt Cocke
Team B
Andrew Simons
Jon Diamond
Paul Smith
Reserve: Alison Bexfield
Youth (20th-23rd August)
Vanessa Wong
Tian-Ren Chen
Henry Clay
Pair (20th-23rd August)
Matt Crosby & Martha McGill
Simon Bexfield & Alison Bexfield
The observant will have noticed that we are allowed to enter five players in the Individual events (Men's Individual, Women's Individual and Youth), so if there are any people who wish to be considered for the remaining places please contact me as soon as possible.
Since we don't have any sponsor this year, unlike Beijing in 2008, all the participants are paying for their travel, accommodation and uniforms. We'd like to be able to help defray some of these costs, especially for those who are in financial need. If you'd like to help please visit our WMSG donation page [1].
Last updated Sat Apr 22 2017. If you have any comments, please email the webmaster on web-master AT britgo DOT org.