You will have probably seen, or seen pictures of, the usual type of Go board and stones in common use by clubs and at tournaments throughout the world. If not here's a picture of a table Go board [1] and another of a luxury floor Go ban [2] and some typical glass stones [3]. Also there are some pictures of sets recently sold in the UK [4].
This page shows pictures of some Go sets that are a little different and have been on sale in the UK at some time in the past. The board and stone sizes are included when the set is smaller than normal size. In addition to plastic, wood or card stones that have been included in sets, there have also been sets with coloured glass and black and white marbles (that sit in hollows on the board); we currently do not have any pictures of those. Please send us pictures of any sets we do not have in our collection.
There are also some sets on display in some museums [5] in Britain.
Ponnuki Go Set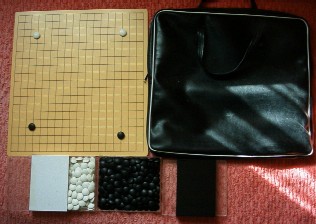 The Ponnuki Go Set was on sale in the late 60s and early 70s. It came in a black carry back and was a smaller size than standard (plastic board grid 18mm x 19.5mm). The lens-shaped glass stones were 17mm x 5.5 mm.
Ariel Go Set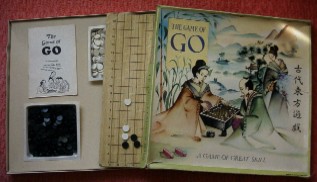 The Ariel Go set was made by Philmar Ltd of London in the 1960s. There were editions with lens stones but most had flat plastic stones 16mm x 3 mm. The card board has grid of 18mm x 20 mm and a 10 board on the reverse. The rules booklet [8] was by the late John Barrs.
The Traditional Japanese Game of Go Set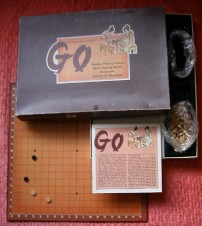 This set was on sale in high street stores such as Smiths in the later 70s. The rules booklet [10] is by R.C.Bell. The stones are 12 mm x 5 mm wooden dowels. The board grid is 19 mm square.
Carlton Go Pack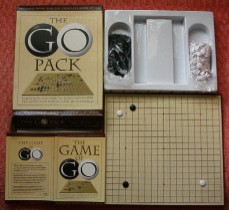 In 1998 Carlton produced their Go Pack which included the book "The Game of Go" by Matthew Macfadyen. The lens stones are 15mm x 4mm and fit the board grid of 15mm x 17mm. On the reverse of the 19 board is a purple 9 board 19 mm x 20.5 mm. Photo of reverse side [12]
Teach Yourself Go Set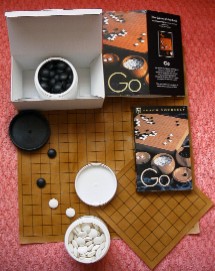 To accompany Charles Matthews' book, "Teach Yourself Go", in 1999 Payday Games sold some Czech-made stones in a matching cover. The 19 and 9 Go mats are also Czech and go well with the stones (13 also available).
Go the Right Game Set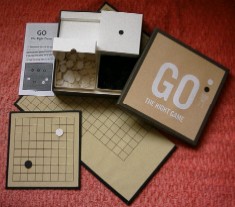 This boxed set made entirely from card and paper came from German in 2001. The 19/13 board folds in 4 and there is a 9x9 board too. The flat card stones are 20 mm (the same size as the square board grid) x 2 mm.
Play Go Today Set 1B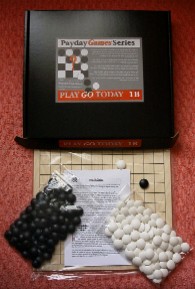 Payday Games produced various sets their most popular set being the Play Go Today 1B set, with 13/9 plywood board, plastic stones in bags and rules written by Gerry Mills. The range was coninued until 2017 by Pentangle Games and Puzzles. Another popular set for beginners was a 9x9 set in a box [16].
Czech stones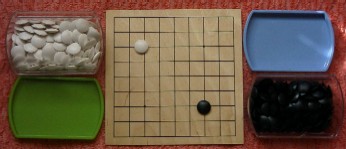 Vladimir Danek in the Czech republic manufactures and sells reasonably priced equipment. With one of his 9x9 Go boards are a set of thin plastic stones manufactured by a previous Czech outfit in the early 90s. The rectangular bowls have loose fitting lids in a variety of colours. They were packaged in a rough card box with a Czech rules leaflet.
Ing Stones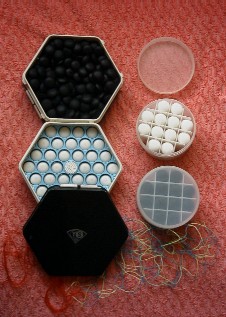 Ing Stones are issued in measuring bowls so that you retain the full set of 180 stones for Ing fill-in counting. The big bowls are the Mark 2 variety from the early 90s, with string carry bag. The small bowls are an Ing 13x13 set from 2003. The stones contain small lead weights so they drop evenly down the holes in the measuring bowls.
Gostelow Boards
Gostelow Boards [1] were made for nearly 30 years by BGA member Dan Gostelow, prior to his death in 2004.