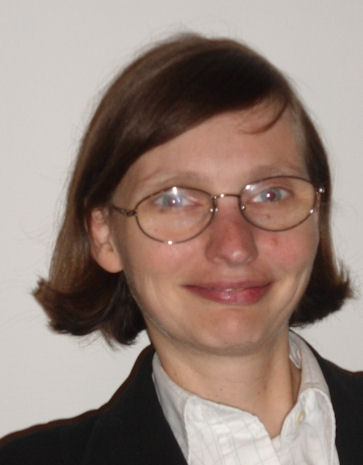 A Go hothouse sprang up in Letchworth Garden City, over the weekend of 8th - 10th November, when 14 of the our strongest and most promising players congregated at the home of Letchworth Go Club organizers Simon and Alison Bexfield for an intensive weekend honing their Go skills under the guidance of Guo Juan 5 dan professional. Guo Juan, famous for her Internet Go School and a frequent attendee at the London Open, flew in from her home in Holland to be there.
Co-host and participant Alison Bexfield 2 dan (pictured, right) described the event as "inspirational", explaining that "the weekend was one of a series run by the British Go Association over the past few years to encourage the development of the leading UK players."
The programme was developed by British Pair Go Champion Kirsty Healey, who also organizes the weekends, which are aimed at increasing the number of players with a European Rating (GoR) over 2400. Invited attendees had to be rated over 2100 or meet other criteria such as being young and rapidly improving players.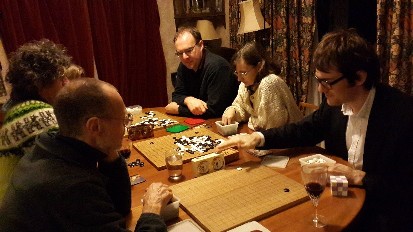 [1] The format was a mix of formal teaching from Juan on particular openings, interspersed with games and reviews of those games. Intensifying the complete absorption in Go, many slept at the Bexfields' or in nearby accomodation and the event was catered throughout by Simon Bexfield.
Participant Tim Hunt 2 dan (pictured, centre), a senior IT developer at the Open University, said: "The event was excellent, as usual. Guo Juan is a fantastic teacher. The Bexfields are wonderful hosts."
Photo by Guo Juan: (L-R) Matthew MacFadyen 6 dan, Richard Hunter 3 dan, Tim Hunt 2 dan, Alison Bexfield 2 dan, Matt Scott 2 dan.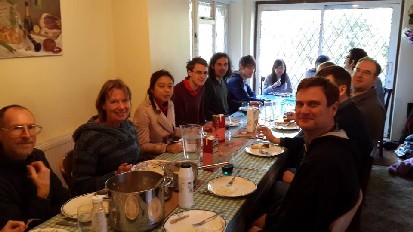 [2]
Guo Juan comments: "We had a wonderful UK Strong Players' Weekend. I had great fun! As teacher, what could be more fun than when your students are enthusiastic?"
Check out Guo Juan's Facebook page [3] for more photos.
Most of this report is by Tony Collman and originally appeared in the AGA EJ
Last updated Sat Oct 14 2017. If you have any comments, please email the webmaster on web-master AT britgo DOT org.