Playing Go in a sumo ring
Since I have moved to England in Autumn 2012, I have played more Go tournaments than I would have ever thought of. One day in Spring 2013 I logged on to an online Go platform and read about the Osaka Go camp August 2013 in Japan. It sounded like the right combination of joy and learning, and it didn't take me long to sign up.
That was certainly one of my best decisions that year, so in this story I'd like to write you a bit about my experience in Japan.
The Go camp was held at a Sumo training center, so some of the tables were in a Sumo ring that you would now and then stumble over. Casual playing and invidual learning usually last till late in the night.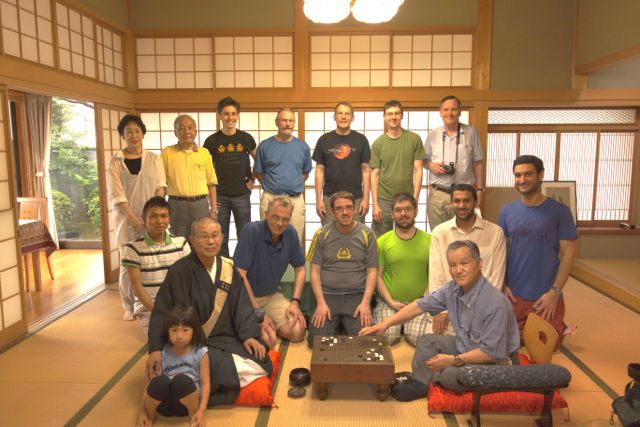 We had professional Go training and a camp league where we would play with each other. It was great to meet Go lovers from all over the world and I'm still in contact with many of them. There were also many other Go events like going to the Kansai Kiin where they would train the kids and have live broadcasting of the top game on a big screen in their cafe. Last but not least their were interesting sight seeing tours that you could but did not have to join. The picture is of us in the Shusaku museum! Seeing Hiroshima, Kyoto, (some of us) Tokyo, Osaka downtown and many shrines and temples topped off an amazing experience that lasted 3 weeks but much too short.
It was all very well organised and great to have well translated teaching from many professionals and one main teacher (Maeda sensei).
Though I could write tons more about this experience, I will finish my short story with this. If you're interested in reading more, there is a blog on the Osaka Go camp 2013 with many pictures: http://osakago.blogspot.de/ [1]
The organisers have contacted me some days ago that they will have a new camp in 2014, you can read more about it on https://www.ads.tuwien.ac.at/~hu/osaka_go/ [2] .
I'd love to go again but there is too little holiday for too many plans.
If you happen to go, please do let me know about your experience afterwards, I'm sure to meet you on one of the next UK tournaments.
Chris Volk [3]
Last updated Sat Oct 14 2017. If you have any comments, please email the webmaster on web-master AT britgo DOT org.