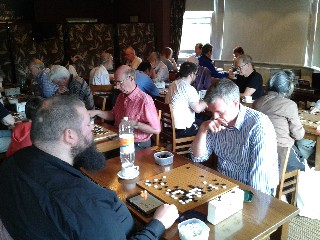 [1]
22 players attended the fourth Welwyn Garden City Tournament which this year was held at the Red Lion Public House in Hatfield.
The winner after a showdown on the top board was Paul Taylor (2d St Albans). Also winning 3 games out of 3 was Colin Maclennan (10k Twickenham). A prize for best young player was given to Edmund Smith (13k Cambridge) who won 2 games out of 3. Some smaller prizes were given at the organisers' whim to other winners of 2 games out of 3, including to Mark Baoliang Zhang (1k no club).
Results [2] (Photo from Tony Collman)
Last updated Tue Jan 05 2021. If you have any comments, please email the webmaster on web-master AT britgo DOT org.