[1]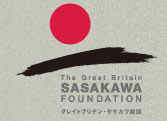 [2] We are please to announce that the following young players have been selected for this visit to Japan:
Ben Murphy, age 24
Charlotte Bexfield, age 13
Edmund Smith, age 9
They will be accompanied by Alison Bexfield and Andrea Smith.
Thanks to the Nihon Kiin [1] and the Sasakawa Foundation [2] for their support for this visit.
Last updated Fri Oct 13 2017. If you have any comments, please email the webmaster on web-master AT britgo DOT org.