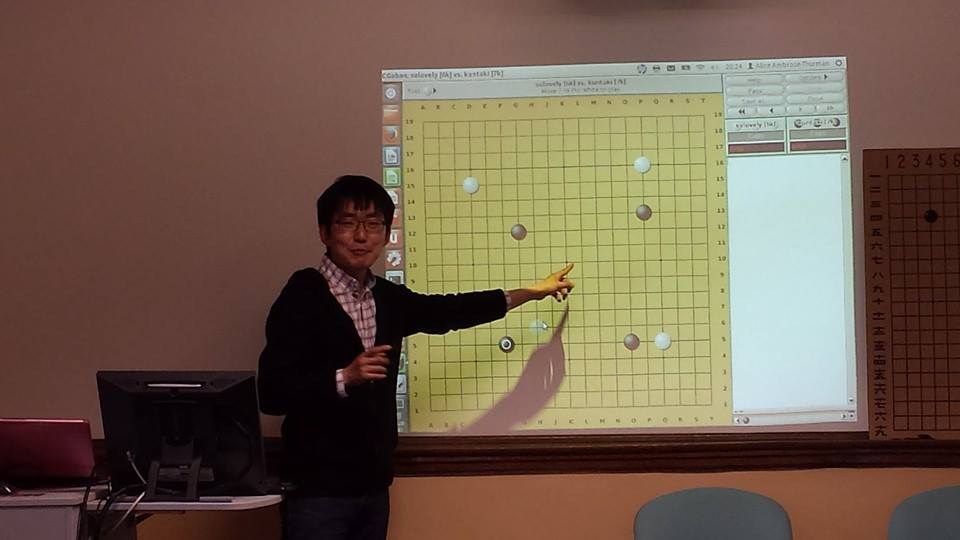 [1]
Durham Go Tournament 2015 started with a fascinating two hour teaching event on the Friday night from Chi-Min Oh (7d), who talked for an hour about trick plays and then logged into KGS to analyse and review some people's games at random while they were playing them - demonstrating in some cases that it's not just kyu players who make silly mistakes! It was especially good of Chi-Min to run this, as it was his last day in Durham before travelling back to Korea.
The tournament itself had 29 entrants, ranging in strength from 3d to 22k, and was held again in the Pemberton Rooms. This building is in the heart of Durham on Palace Green, overlooked by both the Cathedral and Castle.
After the third game a number of the players headed for a local house for a Go BBQ, along with various people who weren't able to play in the tournament itself. After a week of sunshine the rain started about half an hour in, but the Go players continued undaunted - eating and playing Go variously under a gazebo, in a large canvas tent, and in a greenhouse.
The party continued late into the night, which might explain why the fourth round, next morning, had slightly fewer entrants. The last three rounds went without much incident, and at the end Alex Kent (3d Bristol) retained the title and won his third Goat Ornament (as well as a 6 month subscription to Baduk TV English, kindly sponsored by Go Game Guru). Appropriately named Alan Go (10k Durham) also won all six of his games. Various prizes were given, including to the winners of the Lightning and Small Board side events (Chris Muse and Sam Bithell), and to Robert Scantlebury, who won the prize that we've been wanting to give for years - for two wins, two losses, and two jigos.
After the tournament many players wentto a local pub for a meal while people waited for their trains. Thanks to everyone for coming along!
Report from Andrew Ambrose-Thurman
Results [2]
Last updated Wed Oct 11 2017. If you have any comments, please email the webmaster on web-master AT britgo DOT org.