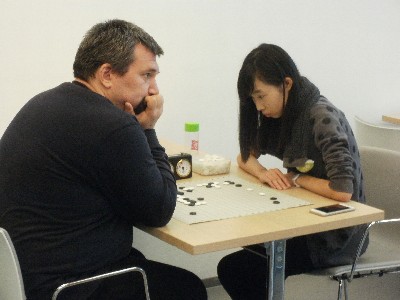 [1]
The 19th MSO at the JW3 on Finchley Road in London was dominated in the Go events by Aja Huang and Joanne Leung (shown right playing Lucretiu Calota).
In the first Go event, the 9x9 on the Sunday morning, Joanne Leung won all four games to take the gold medal. Silver went to the event arbiter Tony Atkins and bronze and junior gold went to Edmund Smith. Results [2]
In the second event, the 13x13 on the Sunday afternoon, Aja Huang won the gold, pushing Joanne back to silver. London teenager Kapriel Chiarini took the bronze medal. Results [3]
On the Bank Holiday Monday, 14 players gathered for the main 19x19 Go event. After three rounds the only players unbeaten were Aja Huang and Lucretiu Calota. Aja won their encounter to take the £100 prize and the gold medal for the second year running. Silver went to Lucretiu and the bronze to Joanne. These two shared the prize money for second and third with Alistair Wall who also had three wins but a lower sodos tie-break. Best junior players were Laurence Turner and Kapriel Chiarini. Results [4]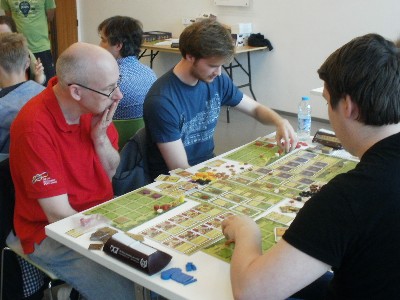 [5]
Overall attendance at the MSO was up twenty percent, with 330 players registered, playing an average of just under four events each. Several Go players took part in other events. Chris Bryant won the Decamentathlon ahead of Matthew Hathrell, for example, four of the Smith family played Agricola (Paul Smith illustrated right in red), and the Junior Medals in Dominion went to Edmund Smith, Constance Selby and Roella Smith.
Last updated Wed Oct 11 2017. If you have any comments, please email the webmaster on web-master AT britgo DOT org.