Hitachi's European HQ at Maidenhead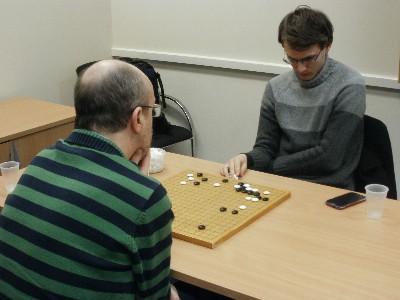 [1] Andrew Simons (shown right playing Des Cann) won all his games to win the Maidenhead-Hitachi Tournament, held as normal at the Hitachi Europe HQ, thanks to Hitachi.
Also winning three games were Roger Huyshe (3k Shropshire), Malcolm Hagan (5k Winchester), Stephen Bailey (7k Arundel) and Robert Scantlebury (9k Sheffield). Paul Barnard (2k Swindon) won 2.5. All players on two wins won a prize each too, with Hitachi maintaining their generous Go-support with a fine array of prizes.
Best teams were Arundel (Steve, Malcolm, Pauline and Casey) on 9/12 and "No Go" (Roella, Edmund, Charlotte and Zaki) on 8/12. The 13x13 prizes went to Edmund Smith (8k Milton School) with 3/4 and Lily Danson (15k Cheadle Hulme School) with 4/7.
Results [2]
Last updated Wed Oct 11 2017. If you have any comments, please email the webmaster on web-master AT britgo DOT org.