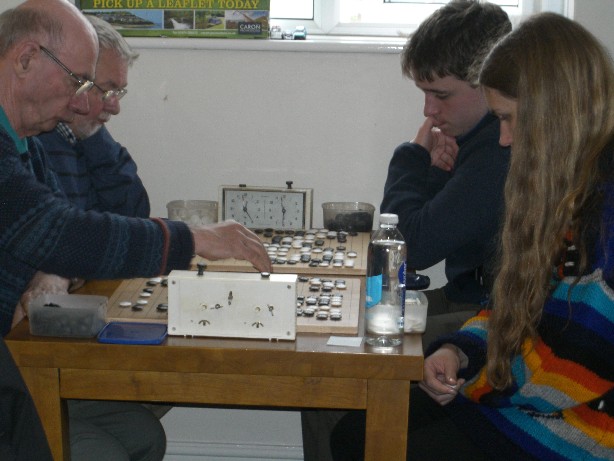 [1]
The 24th Welsh Open was held again at the now-traditional venue of the Min-y-Mor Hotel, in the coastal resort of Barmouth. For those who arrived early, on the sunny Friday, there were friendly games and refreshments in the hotel during the evening. On the also sunny Saturday, there was the usual evening meal held at the hotel, enjoyed by 24 players &/or partners, and the fun continued into the night on the wet Sunday, after the tournament.
There were 35 players in all in the Welsh Open, with 8 players above the bar, at shodan or stronger, competing for a new trophy. This is the Brian Timmins Plaque, kindly presented by his widow Kathleen. Brian's favourite annual tournament was the Welsh Open and he sadly died not long after playing (as he always had) in last year's event. The trophy went to this year's winner Wenshi Chen (5d) from Warwick University, who won all six games, and he is shown receiving it from Kathleen and organiser Martin Harvey. Wenshi also reviewed various games during the weekend, which was much appreciated.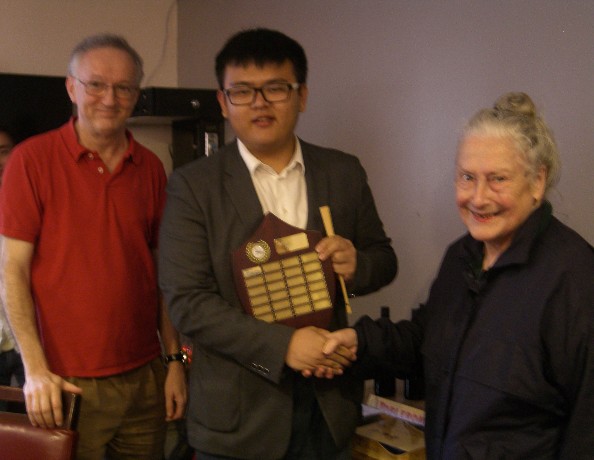 [2]
A prize for six wins out of six also went to young Edmund Smith (9k) from Cambridge. Nobody won five, so prizes were awarded to second-placed Alistair Wall (2d Wanstead) and Joanne Leung (2d London) who both won four but were split by one SOS-point. Other prizes were awarded to two players who won three out of the four rounds they played in. These were Daniel Gascoyne (18k Cheadle Hulme School) and Kathleen Timmins (14k Shrewsbury). Kathleen's win was very well applauded, as she had not played in a tournament for a considerable period and she showed she'd lost none of her cunning. Daniel also collected the prize for the 13x13 side event. His proud parents Fiona and Jeff were there to see him picking his prizes, but were understandably miffed he twice chose chocolates over wine!
The organisers, Helen and Martin Harvey, have booked 2017's event, with free coffee and tea again to be provided. The hotel manager has agreed to offer an early and a late sitting for the Saturday evening meal, which it is hoped will expedite serving and paying. They look forward to many players returning to Barmouth next year.
Results [3]
Last updated Wed Oct 11 2017. If you have any comments, please email the webmaster on web-master AT britgo DOT org.