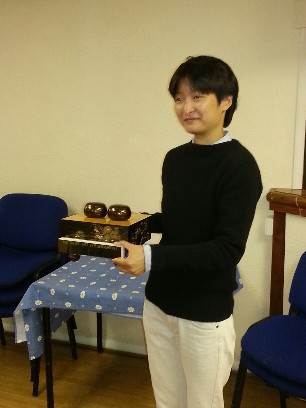 [1]
Fortunately Southern trains were working properly so the Londoners arrived without mishap, and, despite a few withdrawals for illness and the like, 20 players made it to Sussex for the 2016 Arundel Tournament. Any non-playing partners who came along could enjoy some of the cultural activities of the Arundel Festival which was on, whilst their other halves sweated over the Go board.
The tournament was won by the London Open winner Sai Sun, 5d, who had flown in from Beijing a few days earlier and is pictured with the Arundel Trophy. The runner up was Romania's Lucretiu Calota, 4d, from St Albans club. Other prizewinners were Jil Segerman with 3 wins, and Peter Collins, Malcolm Hagan and Steve Bailey who all won their first two games.
Results [2]
Last updated Tue Mar 14 2017. If you have any comments, please email the webmaster on web-master AT britgo DOT org.