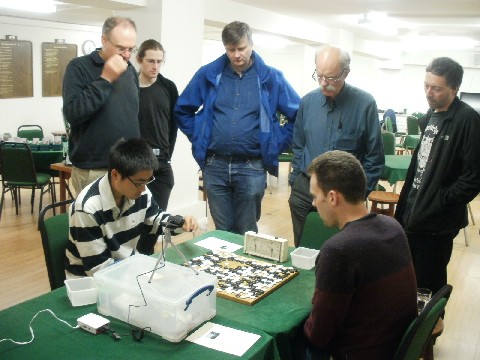 [1]
The Candidates' Tournament was held over the April-May Bank Holiday weekend at the Young Chelsea Bridge Club in West London. 18 of the possible players took part to determine who would play in the next stage of the British Championship, the Challengers' League, on the next bank holiday at the same venue.
Thanks to the organiser, Matt Marsh, setting up a webcam, Chris Bryant was able to rebroadcast the top board game online and it gave a chance to see some of the game on YouTube. Also the players were able on the Sunday to help review some of the games in the parallel Bar-Low Tournament.
After the six rounds, the following players made progression to the Challengers' League:
Daniel Hu (6 wins)
Andrew Kay (5 wins)
Andrew Simons (5 wins)
Charles Hibbert (4 wins)
Des Cann (4 wins)
Tim Hunt (3 wins)
Alex Rix (3 wins)
(Note that Alex Rix was tied for 7th position with Alistair Wall on SOS. Alex progresses due to finishing higher than Alistair in last year's Challengers' League).
Results [3]
Last updated Fri Jul 14 2017. If you have any comments, please email the webmaster on web-master AT britgo DOT org.