** CHS **
This web page - http://www.britgo.org/clubs/chs - shows the BGA info. that relates specifically to CHS' school Go club.
It shows what's coming up, that's of interest to CHS students. CHS runs Go Clubs in the Juniors and in the Seniors. Junior School club meets on Tuesdays, after school. Senior School club meets in room L1.4, on Tuesdays and Wednesdays, both at lunch-times and after school.
Below, you'll see some other activities that the keener Seniors (and occasional Junior) engage in.
UK Youth Easter trip to Ukraine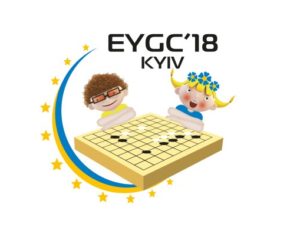 [1]
This was held from 25th March to 1st April. Venue: Kiev, the capital of Ukraine. 7 went from CHS (4 boys & 3 girls). In all there were 6 UK adults + 10 UK students, out of 209 youngsters competing. All had a great time, & Team UK won more games than we lost ! More info. [2]
Manchester Summer
Sunday 20th May. Minibus from CHS gym car park, dep. 08:30. See link below for full details. Bank of East Asia, central Manchester. 3-round tournament. 40 minutes' basic time. Free squash and biscuits. £5 for CHS students. Back at CHS gym car park between 5pm and 5:30. Reply quickly to CHS, via Parental Portal, or students not allowed on the minibus. More Info. [3]
British Pair Go Championships
Saturday 2nd June. Red Lion [4], 88 Great North Road, Hatfield, Hertfordshire, AL9 5EU [5] Tournament for teams of one male and one female; play alternately; no conferring. The top 8 "British" pairs play for the title. Remaining pairs play in the handicap section. Registration by 10:15. Prizegiving by 16:30. Be quick to contact Mr Harvey, as it's a popular fixture with CHS students, & only 5 pairs can be taken on the minibus. More about PairGo [7]
Summer Residential Camp
Wedn. 29th to Fri. 31st August. Venue: PGL Caythorpe Court, Lincolnshire. This is an annual event, started last year. Then, 19 youngsters went, including 8 from CHS. Mr Harvey & 4 other BGA adults - including Alison Bexfield, the UK Youth squad captain - ran Go-teaching sessions, and 4 outdoor activities were run by PGL staff. Contact Mr Harvey with any queries, on martin.harvey at britgo.org Entry details [8] Photo & report from the 2017 camp [9]
CHS Ranking List
Please take a look at the CHS Ranking List [10], to see where CHS players now stand in Europe
- e.g. Zaki Betesh (Y12) is nearly in the Top 2,000 'EGF-placed' (European) players - out of all 42,746 Professionals, adults & youngsters! [But will he be the first from CHS to actually enter the Top 2,000 ?!]
Usual comments:
*** Parents MUST give consent via the Parental Portal, and in good time, for a student to be allowed on the school minibus ***
see the Junior Grading List for grades of all under age 18, who have played in a recent tournament & are 30-kyu or stronger.
see the Youth Grand Prix if you've played in a 2017 tournament; CHS' Tom B. & Amy U. won cash prizes for coming 2nd & 3rd, out of 84 players!
see the Double-Digit Kyu Grand Prix if you've played in a 2017 tournament; CHS' Tom B. came 2nd out of 92 adults and youngsters!
see the BGA Calendar for full details of events listed above (& those that aren't).
Ask Mr Winslow [Head of Physics] or Mr Harvey if you have any queries, e.g. re Go badges, transport, how to improve, what to read (esp. CHS library), Go on YouTube, buying equipment, getting Go leaflets, forthcoming events, foreign tournaments ... you name it!
see the BGA junior section for all UK Youth news.
Last updated Wed Apr 25 2018. If you have any comments, please email the webmaster on web-master AT britgo DOT org.