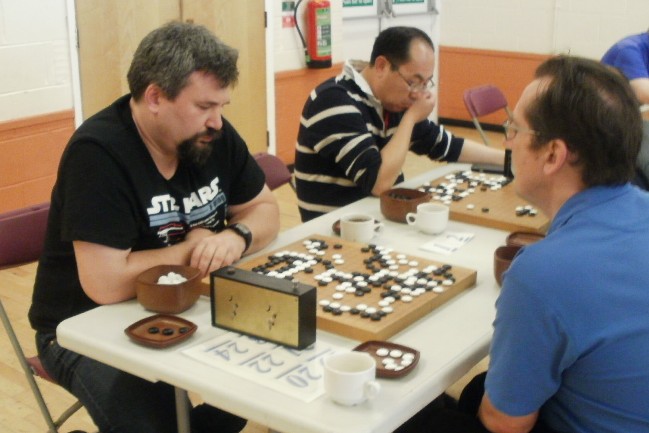 [1]
The top player at the 39th Bracknell Go Tournament was Lucretiu Calota (4d St Albans) who beat Alistair Wall (1d Wanstead) in the final (pictured). Chao Zhang (6d London) and Jim Clare (1d Reading) took third and fourth places, and Paul Barnard (2k Swindon) took fifth with three wins. Others of the 36 players winning three were Casey Alexander (10k Arundel), Alexander Hsieh (10k Cambridge Juniors) and Lueming Yang (20k Oxford).
Arundel won the team prize, by one win, over the junior team of "A Football Stuck in a Bush Squad". Nobody competed in the 13x13, but winning the puzzle-solving were Jonny Evans (10k London City) and Cate Howe (28k Cheadle Hulme School). Best haiku-writer was Richard Wheeldon.
Results [2]
Last updated Sat Jan 19 2019. If you have any comments, please email the webmaster on web-master AT britgo DOT org.