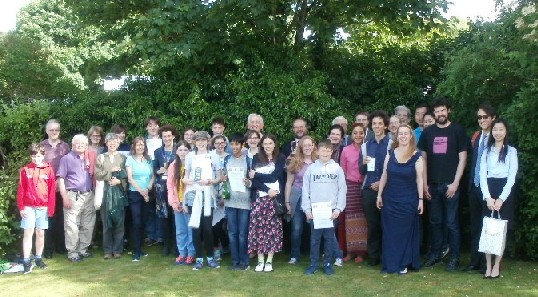 [1]
The British Pair Go Championship was again held at the Red Lion in Hatfield and the organisers, Francis Roads and Jenny Rofe-Radcliffe, were again pleased as there was an increase to 17 pairs, despite several of the stronger pairs not taking part this year. Most of this number was a large group from Cheadle Hulme School (CHS) and Manchester, which was recognised by the organisers presenting Martin and Helen Harvey with a special prize for arranging this.
In the top group the 2016 champions, Joanne Leung and Bruno Poltronieri, did not do so well and it came down to a final between Alison and Simon Bexfield and Natasha Regan and Matthew Cocke. In an exciting game, the last to finish, the final saw a win on time (and on the board) to Natasha and Matthew, making them champions for the seventh time.
In the handicap section it was Sue Paterson (Arundel) and Jack Nolan (CHS) who won all their games. They beat Megan Upton (CHS) and Martin Harvey (Manchester) in the final. Also winning all three games was the ghost, John Collins, who had to play by himself after his partner withdrew a few days beforehand.
The two fighting spirit prizes went to Jackie Chai and John Johnstone (Bournemouth), and Kathryn Ball (Manchester) and Reece Moore (CHS).
Yansai Noeysoongnoen and Andrew Simons won the best dressed pair prize, on footwear tie-break from the organisers. The botany quiz was solved perfectly by Alison Bexfield and by Sue Paterson.
Thanks to the Japan Pair Go Association, all players were left clutching prizes and all DDK players went away with a certificate recording their achievement as well, which they proudly held in the group picture above.
Last updated Mon Jun 05 2017. If you have any comments, please email the webmaster on web-master AT britgo DOT org.