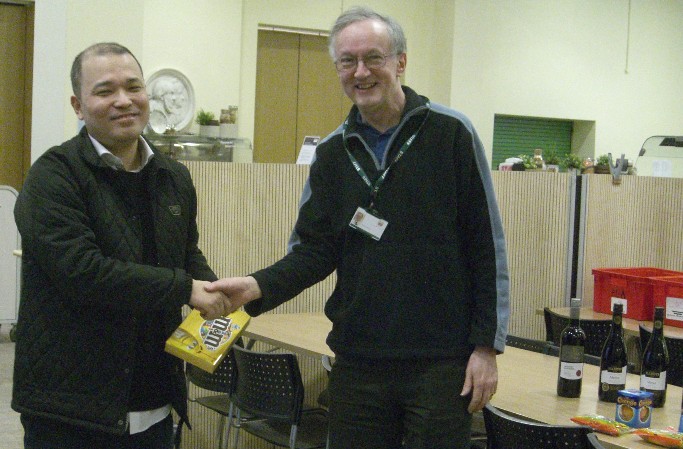 [1]
Freezing national temperatures nonetheless, this year saw the South Manchester day retain its attendance from last year's inaugural day. Cheadle Hulme School [2] (CHS) again kindly allowed use of their fine premises and, as in 2017, two events (Main and Fast) were held at the same time. The Main event, run by Chris Kirkham, attracted 20 players, while the Fast (run by Helen Harvey) featured 13 players. CHS was represented by 13 of its students (better than last year), while the Head of Physics, Mike Winslow, had given up his day to be on hand in case any issues arose.
Winner of the Main, retaining his 2017 title, was Yangran Zhang, better known as Eric to his friends at Manchester Go club, several of whom were also there to applaud him at the prizegiving. As well as from Manchester, some players had made it to the event, despite the weather, from Lancaster, Ormskirk and Nottingham.
Also winning all three rounds in the Main were Jack Nolan (13k, CHS) and Rohan Neelala (16k, Manchester Grammar School).
Star of the Fast tournament was Cate Howe (36k, CHS) who won all her 6 rounds. The only other player to win more than three rounds was Rowan Borrow (19k, CHS) who won 4/6. There was also a Fighting Spirit prize, awarded to one of the Y7 (school year 7) competitors Megan Upton (18k, CHS). She not only played all three rounds of the Main, but also three of the six rounds in the Fast event - top marks for enthusiasm.
Some people ended the day with a fine Indian meal in Cheadle Hulme centre.
Results [3]
Last updated Thu Mar 08 2018. If you have any comments, please email the webmaster on web-master AT britgo DOT org.