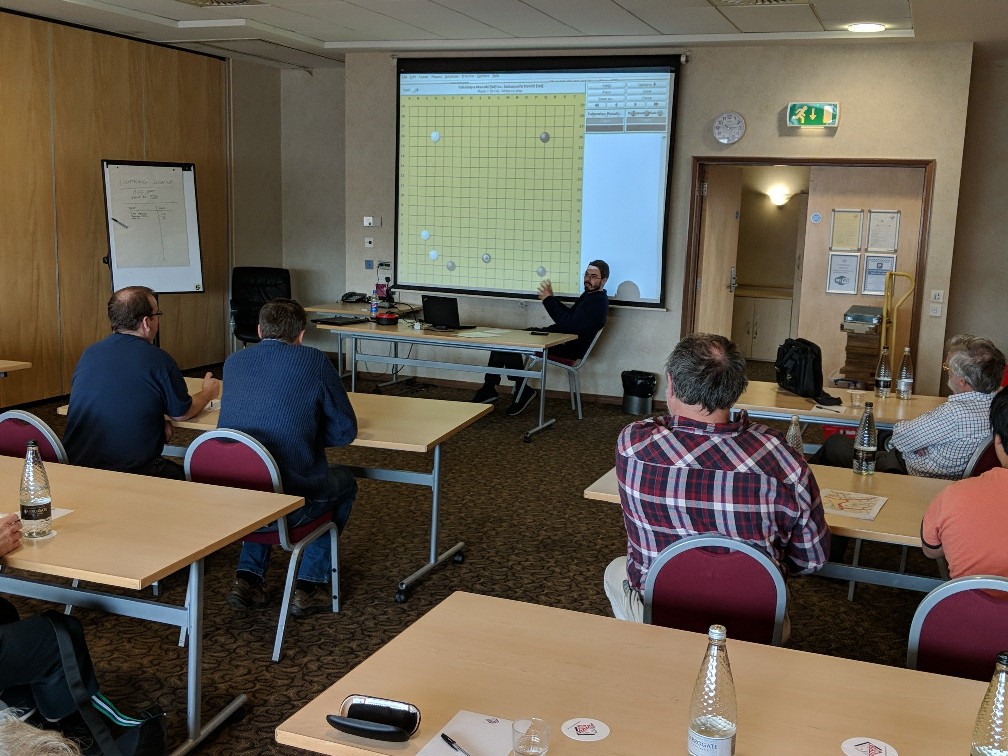 [1] The 51st British Go Congress was held in Bristol and the very modern Future Inns Hotel, just across from the Cabot Circus shopping centre in the middle of the city.
It started on the Friday with a teaching session and then the British Open Lightning. This was won by Alex Kent (3d); he beat the previous winner, Xunrui Zhao (3d) from London, into second place.
However in the British Open, played as usual on the Saturday and Sunday, it was Xunrui Zhao who was the winner, scoring victories in all six games. In second place was Jon Diamond (3d) and third was Sandy Taylor (2d) from the local club.
[2] Winning five games were Richard Bentley (3k Durham), Ai Guan (6k) and Chun Yin Wong (10k), both from Lancaster Club. The top placed Single Digit and Double Digit Kyu, that had not won five games, were also rewarded: Paul Smith (1k) and Songbai Wang (10k). All the above received BGC engraved medals. 58 players competed in the tournament.
Results [3]
In a vital last round contest, Toby Manning beat Alistair Wall to take the trophy in the annual Stacey Grand Prix [4] by 27 points to 25.
Last updated Sat Jul 21 2018. If you have any comments, please email the webmaster on web-master AT britgo DOT org.