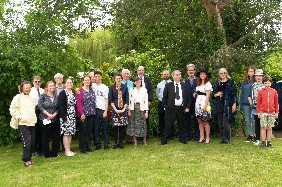 [1]
The British Pair Go Championship settled into a new home for the 24th edition, as the old venue had closed down. The event was held in the Red Lion in Hatfield, less than five minutes walk from both the station and the historic old town area. This is now also the venue for the Welwyn Garden City Tournament.
Due to the busy calendar and some illness, there were only 10 pairs taking part and so they were split into six for the open section and four for the handicap section. Winning the top section and returning to the champions position were Natasha Regan and Matthew Cocke and winning the handicap section were Jil Segerman and Patrick Ridley.
The Fighting Spirit prizes went to Edwina Lee and Charles Leedham-Green and to Roella and Edmund Smith. The PE Quiz (pairs of sport terminologies) was won by Kelda and Paul Smith with a score of 31 out of 40. Best Dressed Pair were the local pairing of Sam McCarthy and John Collins.
Last updated Tue Jan 05 2021. If you have any comments, please email the webmaster on web-master AT britgo DOT org.