In the Google DeepMind Challenge Match being held in Seoul from 9th-15th March Lee Sedol resigned after the 186th move, when he realised that he was about 7 points behind and without hope of winning.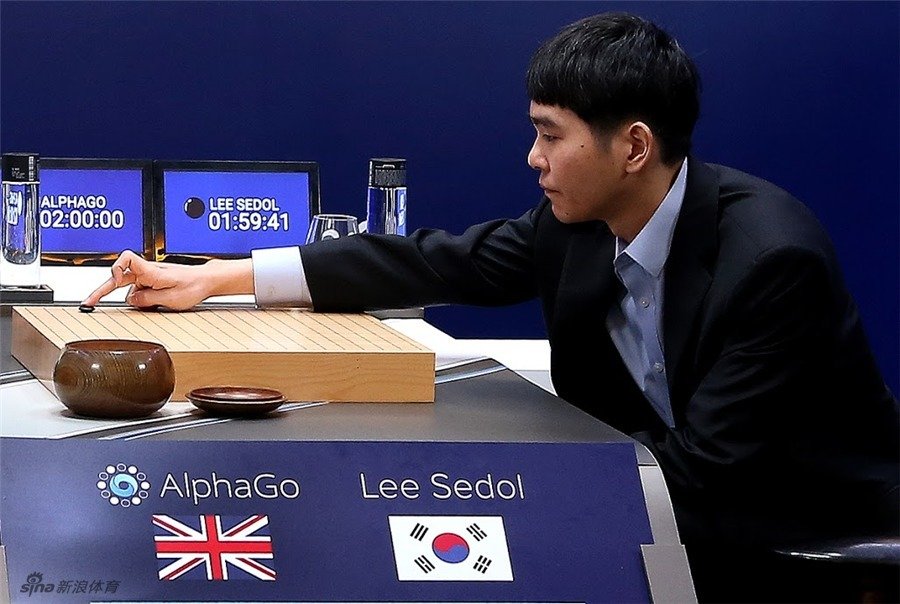 Congratulations to the DeepMind team, although some of the non-UK members may not be so happy about the GB flag being shown for AlphaGo (Lee obviously has a Korean flag).
Aja Huang, 5 dan, was their representative playing the moves on the board against Lee, who had Black.
"#AlphaGo WINS!!!! We landed it on the moon," tweeted DeepMind CEO Demis Hassabis after the game. "So proud of the team!! Respect to the amazing Lee Sedol too." At a jam-packed post-game press conference, Lee admitted "I was so surprised. Actually, I never imagined that I would lose. It's so shocking."
Some more detailed commentary and pictures were available on the GoGameGuru website.
Live streaming of the event will continue again tomorrow, 10th March, at 4am GMT.
Detailed game records and updates about the match can be seen here [1].
Last updated Tue Jan 05 2021. If you have any comments, please email the webmaster on web-master AT britgo DOT org.