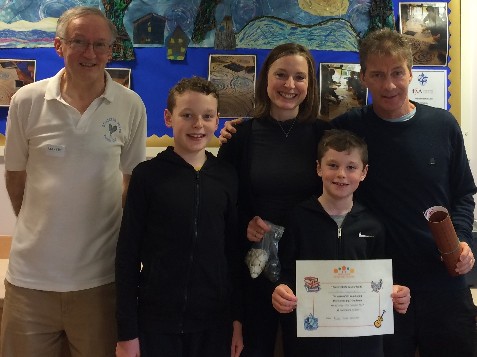 [1]
On Saturday 7th October 2017, 15 children from half a dozen schools in South Manchester attended a Go workshop at Greenbank Preparatory School (GPS) [2]. Following the same format as in the previous year, GPS had contacted the local Educational 'Gifted and Talented' scheme, who then sponsored the day and selected the children. British Go Association (BGA) members Martin Harvey, building on his connection with Cheadle Hulme School (CHS), plus wife Helen Harvey, Roger Huyshe and Tom Bradbury (Y12, CHS) were kept busy throughout, from 10:00 to 15:30, supervising the games.
While the children were just from years 4 and 5, their attention was good, they learned the basics in the morning starting with Capture Go, and progressed immediately to territory Go. In the afternoon they submitted to a hectic 6-round 9x9 tournament, before parents came to collect them. Parents of a number of children purchased beginner's sets to take home and potential contacts were made with new schools. Pleasingly, every child won a minimum of 1.5 games, and all received a Go Workshop Certificate. Their parents were given a full A4 sheet, showing the next steps to take, with contact details locally and to our website, plus BGA tri-fold.
Pictured are Martin from the BGA, with overall winner with 6 out of 6, Joe Lamond (centre) holding his Go Workshop Certificate. Joe's brother Dylan is to Joe's left, with their happy parents Cath (holding the won Go stones) and Donald (+won A3 laminated Go board). Joe, who's in Year 5 at Cheadle Primary School, did his school proud.
The BGA were delighted that GPS teacher Philippa Atha was able to stay with the children all day, and kindly played in all rounds, to make the numbers even. Philippa was full of praise & gratitude to the BGA for the day's activity. GPS' Head, Janet Lowe - on hand during the day as the school ran a simultaneous Open Day - added that the pupil and parent feedback at the end of the day was extremely positive.
Last updated Mon Oct 09 2017. If you have any comments, please email the webmaster on web-master AT britgo DOT org.