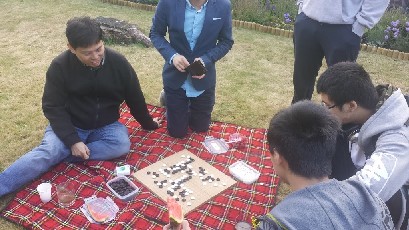 [1]
The 2018 Durham Go Tournament was held at the Oriental Museum for the second year running. Numbers continue to increase, and the 35 entrants ranged from 20k to 4d, reported organiser Andrew Ambrose-Thurman.
As usual, the Durham tournament has a number of opportunities for socialising - including our annual all-you-can-eat Go BBQ. Luckily the weather was sunny and warm (far better than it has been in previous years!), and there were 25-30 people playing Go on picnic blankets (as shown in the picture) and garden tables, including some who hadn't been able to attend the tournament itself.
The top board games were broadcast live over the internet and shown on a big screen in the side room (where there were refreshments available and boards for reviews and side events), although sadly this didn't work properly for some of the games. (The videos are available on Durham Go YouTube Channel [2])
The second day of the tournament had some entrants who hadn't been able to attend on the first day. Hailiang Du had played on the Saturday, but wasn't able to attend on the Sunday morning as he was running in a marathon. Shortly before Round 6 started he sent a message asking to be included as he was on his way and saying that we should start his clock if he wasn't there in time. He was entered into the draw and his clock was started. Unfortunately he was delayed while leaving the marathon, and his car started to run out of fuel. Without stopping, he arrived at the tournament five minutes before his time ran out, with his fuel warning light on. He then went on to win his game, played almost exclusively in overtime.
Alex Kent's run of winning the Durham tournament was broken by Matthew Cocke, who won all his games and so won a Durham Goat Ornament. This year the Goat Ornament was slightly different from before, as sadly IKEA has stopped selling Goat Ornaments.
Prizes (chocolates and items from Japan) were given to people on four wins and above: Sandy Taylor (2d), Alex Kent (3d), Alan Thornton (2k), Peter Collins (5k), Edward Blockley (6k), Roger Daniel (7k) and Daffyd Robinson (13k). Prizes also went to the winners of the Lightning (Jamie Coulthard) and Small Board (Daffyd Robinson and Chris Muse) side events. A pineapple was awarded to Hailiang Du for his last minute dash to the last round, and Plucky DDK Prizes were given to some of the Durham players who were entering tournaments for the first time.
Results [3]
The 2019 Durham Go Tournament will be celebrating 25 years of Go in Durham. We'll be finalising dates and venues soon - look out for details about this, and put it in your diaries!
Last updated Tue Jun 26 2018. If you have any comments, please email the webmaster on web-master AT britgo DOT org.