Milton Keynes is a new town, founded in the 1960s. For the UK that is somewhat unusual. Therefore it is a town that was planned, which is really unusual; in the UK most towns just sort-of happened. The plan of Milton Keynes is based on a grid of roads, which in the USA, say, would hardly raise an eye-brow, but in the UK that is unusual too. So all-in-all, Milton Keynes is a town with a slightly odd reputation.
Now Go is a game played on a board made out of a grid. So the question naturally arises: does the map of Milton Keynes make an interesting Go board. We decided to find out.
In the UK, a lot of the Go tournaments will have a side-event. The main tournament will be, say, a three-round McMahon, and then for the benefit of people whose games finish early, there will be another competition, perhaps on 9×9 or 13×13 boards. At the 2001 Milton Keynes tournament we decided that the side event would be played on Milton Keynes boards.
Generally speaking it was a success. MK Go is certainly quite a silly game. All sorts of strange things can happen with ladders, and there are various corners where you can create tiny live groups in what might appear to be solid territory. After the event several people asked to take copies of the board away with them, so I thought that I would make it available here.
Download
You can download the board in either PostScript or PDF format. These files are designed to print out on A4 paper (but US letter will probably work too). You will then need to photocopy them onto A3 paper (enlarge by 141%) for normal sized Go stones to fit.
As author of these files I (Tim Hunt) retain copyright, but you have my permission to make as many copies as you like for your own use, or for the use of your club or tournament. If you wish to reproduce this board in a book or magazine or similar publication then please ask me first.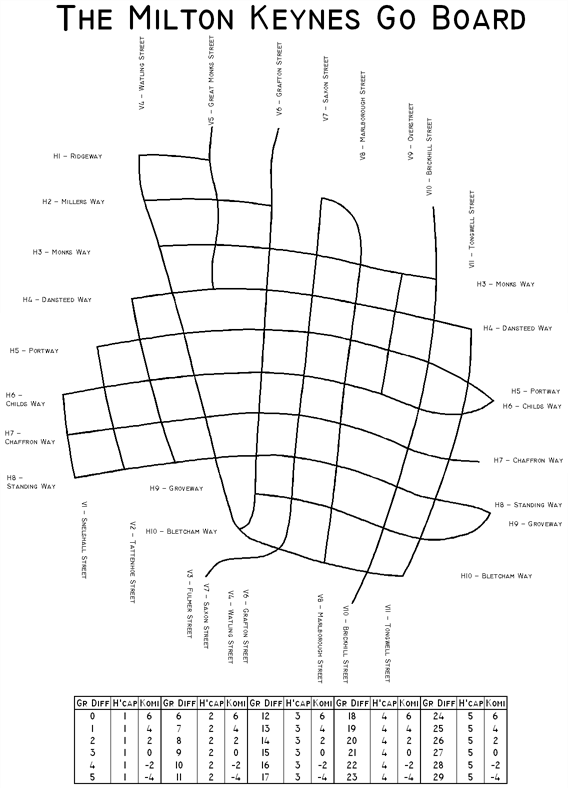 Last updated Tue Apr 30 2013.
If you have any comments, please email the webmaster on web-master AT britgo DOT org.