13 July 2008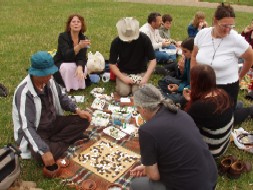 The idea of a Go Picnic will be familiar to many by now following the success of the one in Green Park, London, in 2005, the ones in Purbrook and Belfast in 2006, and again in 2007.
This year there will again be a picnic in Purbrook, Hampshire, on Sunday 13th July from 10:00 am onwards.
The venue will again be the house and garden of Peter and Sheila Wendes.
Previously participants were asked to bring:
A picnic, or there is a pub serving Sunday lunches
A Go set if you're coming by car
A Go flag or banner of your own choice - your Go Club logo, alma mater, city, or your own design
Go items to swap or sell if you like.
This year they are asked to bring along anyone interested in learning Go for the first time.
Children are welcome, as are non Go players. There is no need to stay all day - people can come and go as they wish.
Various Go films will be shown throughout the day.
This is not a tournament, although people can run impromptu ones if they like. The competitive can place themselves on the Purbrook Go Ladder for the day. The idea is to have a day of fun - playing, teaching and nibbling.
Further details from Peter and Sheila.
Last updated Mon Oct 30 2017. If you have any comments, please email the webmaster on web-master AT britgo DOT org.