Sun, 13/10/2013 - 17:57

—

Tony Atkins
Korea Prime Minister Cup
Gumi, Korea
Sat, 12 - Sun, 13 Oct 2013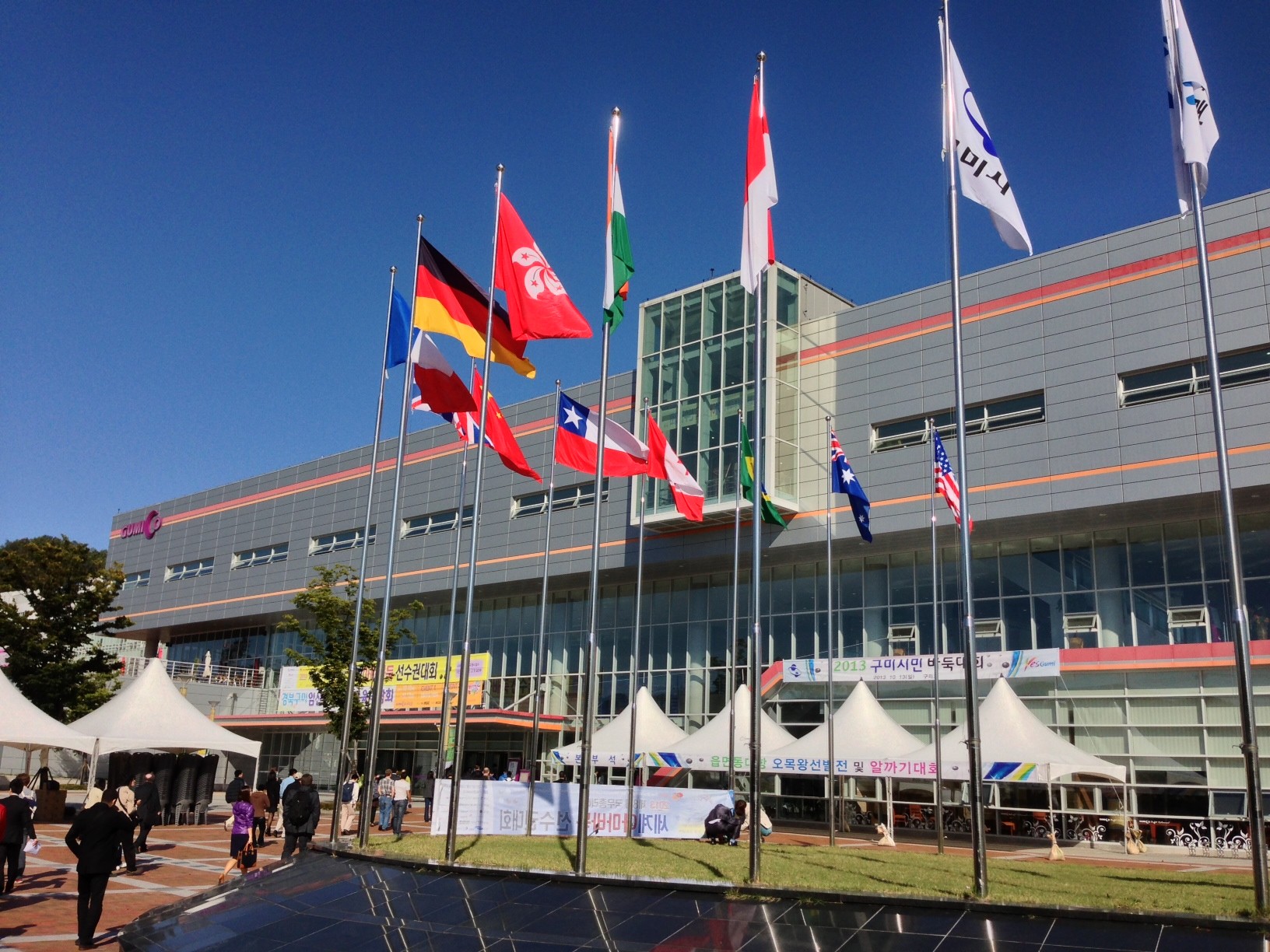 The 8th Korean Prime Ministers Cup, organised by the Korean Amateur Baduk Association, was held in Gumi Conference Centre, in an industrial city about four hours South East of Seoul. The weather was lovely (about 22 degrees), but sadly the sun was shining outside on the UK flag being flown upside down, possibly indicating distress at the UK's likely results? The opening ceremony featured magic acts making women, flowers and birds disappear and then appear again, and also strange modern Korean dancing.
There were three games on the first day, with above the bar China, Japan, Hong Kong, USA, Finland (Juri Kuronen) and Czechia (Ondrej Silt) winning all three. Ilja Shikshin of Russia unfortunately got Hong Kong in the first round. Both Switzerland and Austria won their first two and unexpectedly made it to board one for the third round.
The last three games were on the second day and as expected the final was China against Korea, with both players winning all five up until then. USA started below the bar but won five and had to play Hong Kong. Germany got to play Canada, Russia against Chinese Taipei and Japan against Thailand. These games ended much as expected so the final ordering was very similar to the previous year and as follows: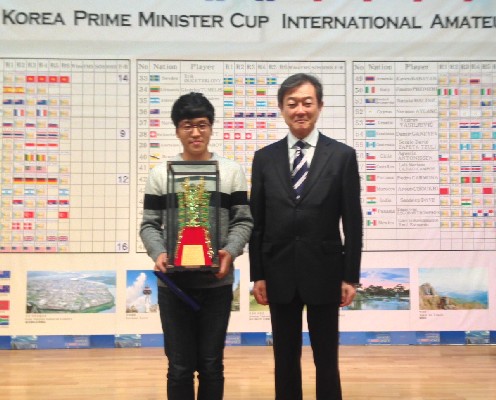 Winner - Korea, Park Jae-Geun
Second - China, Li Pu
Third – Canada, Bill Lin
Fourth - Chinese Hong Kong, Chan Chi-hin
Fifth - Japan, Emura Kikou
Sixth - Russia, Ilja Shikshin
The picture shows the winner with Dae-won Suh, President of the Asian Go Federation.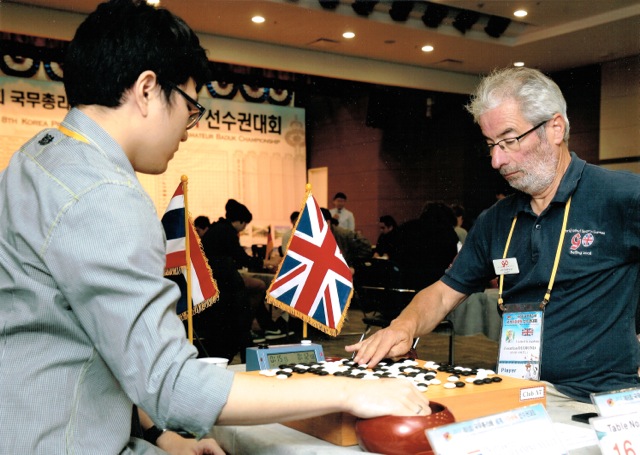 Jon Diamond was representing the UK and came 30th with 3/6. In the first round he lost against Thailand's Nuttakrit Taechaamnuayvit (5d) by losing a group. In the second he lost by half a point to Norway's Jostein Flood (4d), after conceding 13 points due to a damezumari oversight in the dame filling. Round three was a victory over Zhe-Fan Mah (2d) of Brunei, who spent two years studying in Newcastle, a victory sealed by damezumari, this time not in the dame filling stage.
Day two started with a game of swings against Waqiyuddin Mohammed-Zaid (5d) of Malaysia, lost in the end by two and a half. Round four was a victory however against Celeste Abat (5k) of the Philippines and round six was a lucky win against Koichiro Habu (4d) of Poland, who lost some vital stones in a winning position.
Ireland's Colin MacSweeny also won three to take 46th. He lost to USA, Vietnam and Cyprus, but beat Philippines, Azerbaijan and Portugal.
Last updated Tue Jan 05 2021.
If you have any comments, please email the webmaster on web-master AT britgo DOT org.