Cornish Trophies Shared Between Locals and Visitors
Sun, 14/09/2014 - 20:07

—

Tony Atkins
Cornwall
Penzance
Sat, 13 - Sun, 14 Sep 2014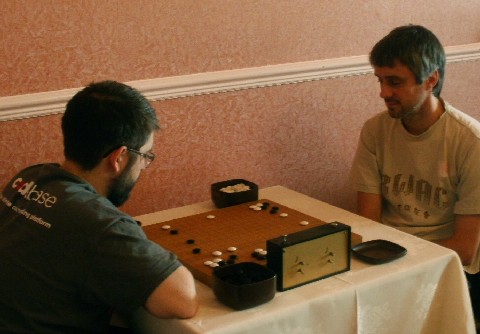 The first of the three events during a very sunny weekend in Penzance was a teaching session on the Saturday morning. Toby Manning led a review of a pro game and set the students a yose problem, whilst Tony Atkins reviewed the status of the J-Group based on the lyrics of a Go song by Neil Symes.
The first of the tournaments, on the Saturday afternoon, saw 20 players taking part. The rapid-play Handicap Tournament was won by local player Paul Massey (1k) who beat visitor Chris Volk (1k) in the final. Steve Ashton (14k Devon) was the lowest graded player to win 3 out of 4. Results
On the Sunday the number of players rose to 22. The Open was played as usual over three rounds and the venue, The Queen's Hotel, provided an excellent buffet lunch as ever. Winning the Devon and Cornwall Go Stone trophy this year was Toby Manning (2d), the fourth time he has done so. He beat defending champion, and the local event organiser, John Culmer (1k) in the final. Elinor Brooks (8k) won her first two games and then lost by half a point in her last game, a handicap one. She and all others named won the usual wooden Go stone to keep. Results
Last updated Tue Jan 05 2021. If you have any comments, please email the webmaster on web-master AT britgo DOT org.