UK Pair Wins Prize at IAPGC
Wed, 29/10/2014 - 07:22

—

Tony Atkins
International Amateur Pair Go Championships
Tokyo
Sat, 25 - Sun, 26 Oct 2014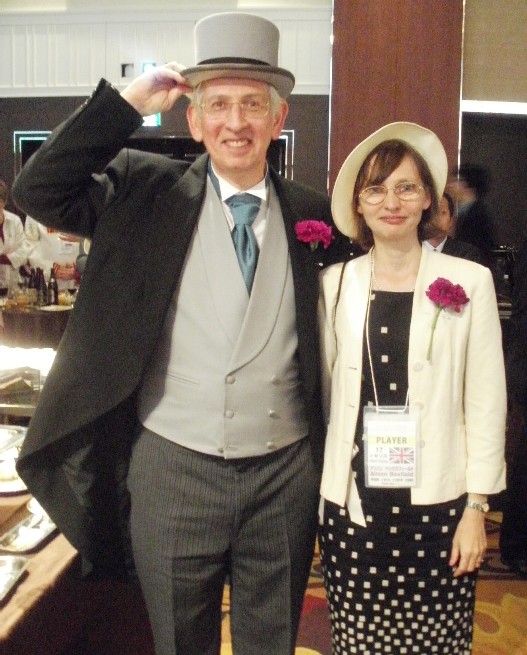 The 25th International Amateur Pair Go Championships was held in Tokyo at the end of October. To celebrate the silver jubilee, in addition to the usual 32 pairs from Japan and around the world an extra 30 guests were invited, people who have proved keen to promote Pair Go over the last quarter century. From the UK the extra invites went to Tony Atkins, Francis Roads, Alison and Simon Bexfield.
As the pair from Turkey dropped out at short notice, Alison and Simon were promoted to the status of players. They won two of their five games, losing to Singapore, Hungary and Germany, but beating Mexico and Italy to end in 26th place. However they did win a prize as their Ascot-themed national dress was appreciated by the judge, top fashion designer Junko Koshino, to end up on the list of best dressers.
Britain's other player was Vanessa Wong, who was using her other passport to play as the representative of Chinese Hong Kong with a strong partner, Chan Nai San. She was very disappointed to lose their first game against a Japanese pair, but won the other four games to end up in a very notable fourth place.
Korea won the event yet again, with Kim Sooyoung and Jeon Junhak beating the pair from Chinese Taipei in the final. Third was one of the Japanese pairs; Japan also took places five to eight. Singapore, Czech Republic, the USA and the European Championship pair (Manja Marz and Benjamin Teuber) were in the group on three wins.
Last updated Fri Oct 13 2017. If you have any comments, please email the webmaster on web-master AT britgo DOT org.