Fun and Games at Letchworth Rapid Play
Sun, 09/11/2014 - 15:31

—

Tony Atkins
Letchworth
Letchworth Garden City
Sat, 8 Nov 2014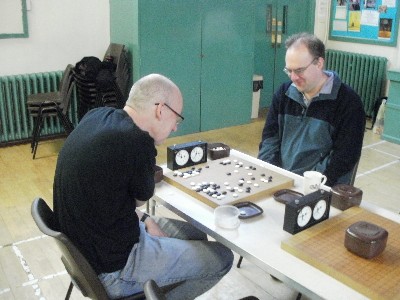 Organiser Alison Bexfield wished that all the 26 players at the first Letchworth Rapid Play had fun, and the thirty minute time limits saw most games ending in fun battles and not reaching their natural end. The venue was the Central Methodist Church in Letchworth Garden City which allowed the main group of players to be in the hall, but also a group of junior novices to be able to play 13x13 games in a side room.
Prizes were awarded by sections. The Open section winner was Tim Hunt (2d Milton Keynes) with six wins. Major Section (3k-9k) was won by Ben Ellis (3k Milton Keynes) randomly picked from the group on two wins by his daughter Sophie. Minor Section (10k-20k) winner was John Collins (10k St Albans). Junior Section winner was Melchior Chui (9k Cambridge), beating local girl Charlotte Bexfield (10k) in a last round re-match.
The Novices Tournament was won Greg Briscoe from Cambridge; he beat Josh Terry from Bungay in the final, having drawn with him earlier. All other juniors went away with small prizes, including best improved Immy and best puzzle solver Iwan.
Last updated Fri Oct 13 2017. If you have any comments, please email the webmaster on web-master AT britgo DOT org.