North London win London Teams Again
Mon, 06/10/2014 - 11:06

—

Tony Atkins
London International Teams
Melton Mowbray, Holborn
Sat, 4 Oct 2014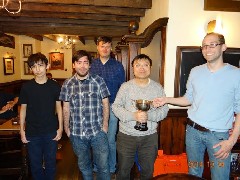 The autumn edition of the London International Teams stayed at the Melton Mowbray pub and again on a Saturday, but this time the teams had five players.
A North London Go Club player raised a team of players from around London to defend the title. They managed to win all three matches, by three boards to two, to retain the trophy.
The other three teams each won a match and the order on games won was second Wanstead, third Nippon and fourth SLGC from South London.
As usual all players won a prize but those especially noted for winning all three games were Aja Huang (6d), Shunsuke Sakairi (3d) and Roger Daniel (5k).
Last updated Fri Oct 13 2017. If you have any comments, please email the webmaster on web-master AT britgo DOT org.