Manchester Japan Day Report
Wed, 17/09/2014 - 17:04

—

Tony Atkins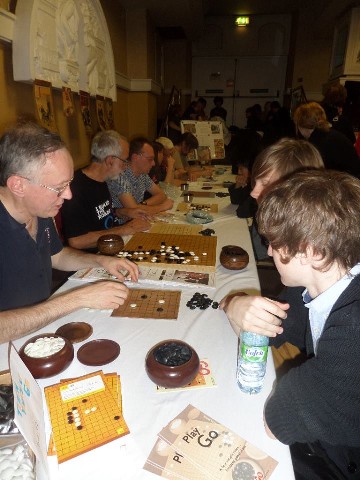 Martin Harvey took up the kind offer from the Japan Society North-West (JSNW), to arrange the manning a stall at this year's Manchester Japan Day, this last Bank Holiday Monday. Eight local players gave free demos to the public, over seven hours, with only short breaks to see the drummers, cosplay, kendo, kimono dressing, sushi bars and much more.
Aslo this year's Japan Day was honoured by being opened by a minister from the Japanese Embassy - his first trip to Manchester.
We estimate we gave about 150 demos, from the 2120 members of the public who had free entry on the day, most of whom would have seen our stall, well placed next to the stage. We also handed out say 250 tri-folds and sold 10 boxed wooden starter sets and 5 TYGo books. We hope that each board or book will inspire a number of players over the years, especially in the North-West, and that local clubs may then be able to take these people's interest further in future.
We in Manchester keep getting the odd person who is from Liverpool and wants to meet others from there. We have taken names and Pat Ridley of Chester is going to try to pull them together.
The Japan Day seems to bring in people who are willing to explore Japanese culture and thus provide a more ready audience for Go than many other public places. There is quite a young average age for the public - say 30 years old - which makes it a target-rich population for the BGA. We wonder what other Japan Society events around the country the BGA might find out about and attend.
Last updated Fri Oct 13 2017. If you have any comments, please email the webmaster on web-master AT britgo DOT org.