Paul Smith wins British Small Board Championship
Tue, 21/10/2014 - 09:29

—

Jon Diamond
British Small Board
Robinson College, Cambridge
Sun, 19 Oct 2014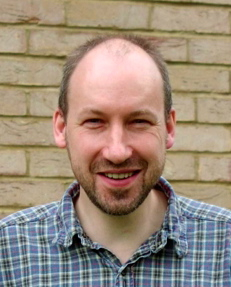 There were 12 players in this year's tournament, held in Robinson College in Cambridge. As usual there were some excellent cakes.
The overall winner was determined by even games with double elimination. Most other games were handicap games. Games played with handicaps are shown in red. A couple of games in the first round were affected by dodgy clocks, but thankfully nobody complained too much and the problem was then sorted with the help of Andrew's phone.
Paul Smith (pictured) was the organiser, and also winner for the second time. He celebrated by going to watch the American singer-songwriter Dean Friedman performing in St Ives.
The junior winner was Melchior Chui. There were also prizes for the other juniors who scored three or more wins; they were Kelda Smith and Claudia Bazyk. The fighting spirit prize went to Mo Buckley.
Thanks to Ryutaro Ikeda and the Cambridge University Go Society for their help in organising this event.
Last updated Tue Jan 05 2021. If you have any comments, please email the webmaster on web-master AT britgo DOT org.