Visiting Jitka has a Perfect Weekend Break
Sun, 28/09/2014 - 21:34

—

Tony Atkins
Swindon
Even Swindon Community Centre
Sun, 28 Sep 2014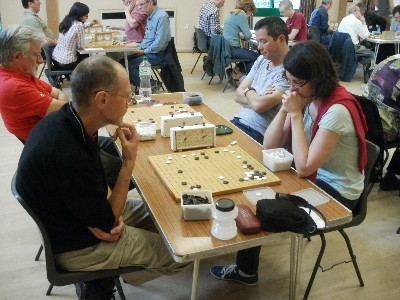 Jitka Bartova (1d) was visiting the UK from Prague for a weekend with her friend Ngoc-Trang Cao who is a current member of Leamington Club. Luckily John Green could give them both a lift to the Swindon Tournament, so Jitka could promote the 2015 European Go Congress in Liberec and also win the tournament, to make a perfect weekend away.
Simon Shiu had stopped Ngoc-Trang from winning another event in round one, but Simon lost to Jitka in round two. This lead to a final-round clash with Bristol's Richard Hunter (2d), the only other top player on two wins. The game was the last to finish and ended equal on the board, but Jitka held the white stones to win by the komi. Her win, plus two wins by her friend and two wins by her driver, meant that Leamington was the best club.
Of the 36 players, others winning all three games were Patrick Batty (5k South London), Malcolm Walker (7k) and Tony Finding (9k Bristol). Malcolm also topped the 13x13 table, jointly with Jil Segerman.
Last updated Fri Oct 13 2017. If you have any comments, please email the webmaster on web-master AT britgo DOT org.