British Youth Team in Action at EYGC
Tue, 17/03/2015 - 17:47

—

Tony Atkins
European Youth Go Championship
Zandvoort
Thu, 12 - Sun, 15 Mar 2015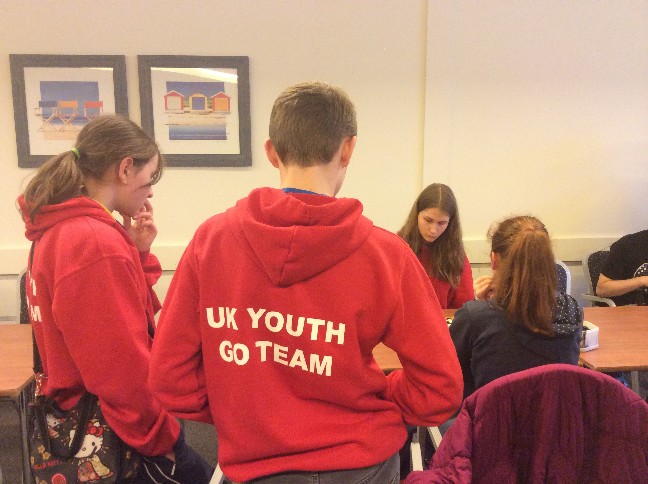 The UK had six players representing it at the European Youth Go Championships held over the weekend of 15th March in Zandvoort am Zee in the Netherlands.
Looking very smart in their UK Youth Team hoodies there was a good team spirit. After the first two rounds things were not looking good for the UK, but in the later rounds we did pick up more wins to end with a total of 14 points out of 36.
One of our players had a very exciting finish in the last round. After an epic game, in which her opponent had gone into three sets of overtime, Roella claimed a win by one point – after the additional extra 6 points komi courtesy of Ing overtime rules which give two penalty points per overtime set. With our player within one minute of going into overtime herself, which would have reversed the result, it was a most exciting end to the tournament.
Edmund, representing us in the U12 section, finished 18th in his section.
We had five players (Alex, Roella, Charlotte, Kelda and Anthony) playing in the U16 section. Alex, Roella and Charlotte all finished within a few places of each other with Alex just ahead at 31st in the rankings, followed by Roella (33) and Charlotte (34). Both Kelda and Anthony picked up 3 wins.
It was a little disappointing that we did not have anyone representing us in the U20 section but we have high hopes that our current squad of young players will improve further in the coming years. With four of the six players still eligible to compete in the same sections next year we have every chance of bettering our performance next time.
Alison Bexfield UK Youth Team Manager
Euro Go TV Photos - Day 1
Euro Go TV Photos - Day 2a
Euro Go TV Photos - Day 2b
Euro Go TV Photos - Day 3a
Euro Go TV Photos - Day 3b
Last updated Wed Oct 11 2017. If you have any comments, please email the webmaster on web-master AT britgo DOT org.