Charles Hibbert Adds Second title
Sun, 08/03/2015 - 14:53

—

Tony Atkins
Trigantius
Cambridge
Sat, 7 Mar 2015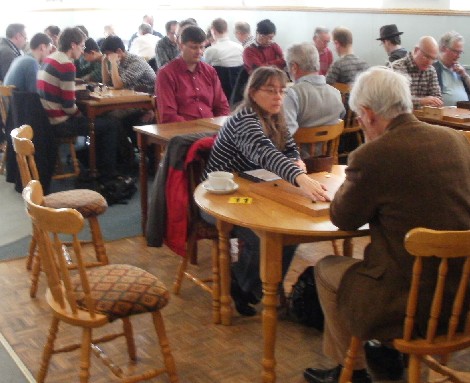 The Trigantius tournament was held in the bar of the Cambridge University Social Club in Mill Lane on the bank of the Cam on a gloriously sunny day.
Taking the Trigantius Trophy, and his second title since taking up tournament Go at the start of 2015, was London's Charles Hibbert (3d) with three straight wins.
Other prize-winners on three wins were Alison Bexfield (1d Letchworth), Yuji Tanaka (3k Japan), Martin Harvey (4k Manchester), Philip Smith (5k), Richard Mullens (6k London City), Fred Zhu (7k Cambridge) and Ben Murphy (10k Billericay).
Special prizes were awarded to those on two wins in categories of best Single Figure Kyu and best Double Figure Kyu. Best Single Figures were Daniel Hu (1k Cambridge University) and Johannes Siven (1k Central London), but the organiser omitted to give the latter his prize, so it would have to be delivered later. Best Double Figure was Charlotte Bexfield (10k Letchworth).
52 players took part.
Last updated Wed Oct 11 2017. If you have any comments, please email the webmaster on web-master AT britgo DOT org.