Ngoc-Trang Cao wins the Welsh Open
Fri, 26/06/2015 - 23:45

—

Martin Harvey
Welsh Open
Barmouth
Sat, 20 - Sun, 21 Jun 2015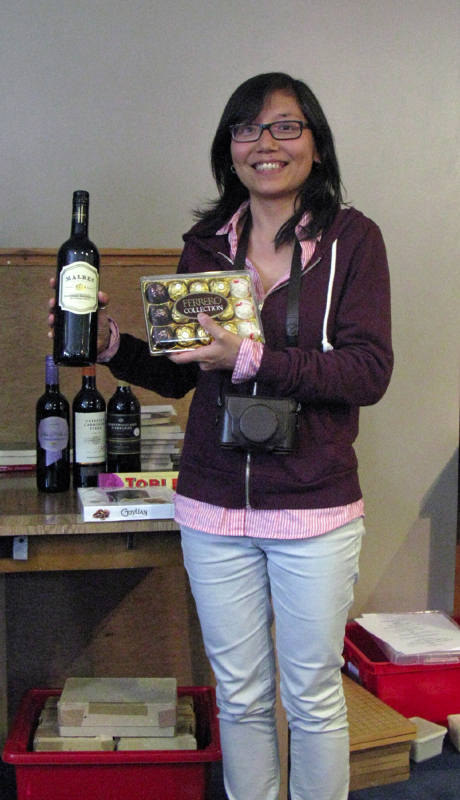 The 23rd Welsh Open was held at the Min-Y-Mor Hotel in Barmouth again, but organised by Martin and Helen Harvey this year, having been staged for many preceding years by stalwarts Tony and Sue Pitchford and helpers. Over the two days, 26 players took part, with the bar at 1 kyu. Encouragingly, all but two players chose to play in the extra (6th) round. This year the playing areas were in two very nice rooms within the hotel (Bistro Room & Family Room) - a change which, whilst forced, was well received.
The weather was overcast most of Saturday, but brightened up on Sunday afternoon. The traditional evening meal on the Saturday was again arranged, and attracted 20 people. The organisers were grateful for this support, which helps keep the hotel management sweet! Sadly, though, the hotel was one chef down for the weekend, which led to some delay in the meal courses, for which apologies are offered.
It was extremely close at the top of the tournament. Ngoc-Trang (Nyoshi) Cao (2d Strasbourg) and Mingcan Xu (3d Cardiff) finished level on 5 wins and also level on Sos. However, Nyoshi sneaked the main prize via the deciding Sosos. Prizes for 4 wins went to Richard Hunter (2d Bristol), Roger Huyshe (3k Chester) and David Horan (7k Chester).
Last updated Wed Oct 11 2017. If you have any comments, please email the webmaster on web-master AT britgo DOT org.