Toby Stops a Tony Cornwall Double
Tue, 13/09/2016 - 12:55

—

Tony Atkins
Cornwall
Penzance
Sat, 10 - Sun, 11 Sep 2016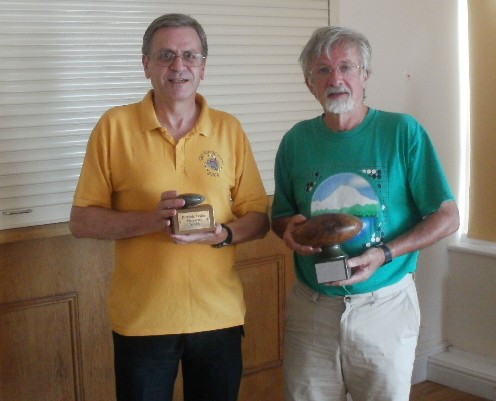 The Cornwall Tournaments were held, as last year, in The Lugger on Penzance's seafront. This time the weather was good enough to sit outside between games, as long as you did not mind the odd sea breeze. The Saturday started with the traditional teaching session led by Toby Manning and Tony Atkins, on subjects such as the middle game and basic life-and-death shapes.
The afternoon of the Saturday was the Cornish Lightning Handicap Tournament, with neatly 16 players taking part. The player who came out unbeaten, despite the grade-difference-plus-two handicap, was Tony Atkins (1k Reading). He beat Peter Collins (4k Bristol) in the final.
18 players took part in the Cornish Open on the Sunday. The excitement mounted as Tony Atkins won his first two games and met with Toby Manning (1d Leicester) in the final round. As it happened the previous four-time winner Toby was the victor, stopping the first ever Cornish double from happening. Lower down the draw Elinor Brooks (9k Swindon) did well winning all her three games. She and the winners and runners-up won the usual wooden Go stones in a variety of exotic woods.
The two winners are shown in the picture with the trophies.
Last updated Tue Sep 13 2016. If you have any comments, please email the webmaster on web-master AT britgo DOT org.