Wall Blows Away All Challenges at Swindon
Sun, 25/09/2016 - 09:31

—

Tony Atkins
Swindon
Swindon Conservative Club
Sat, 24 Sep 2016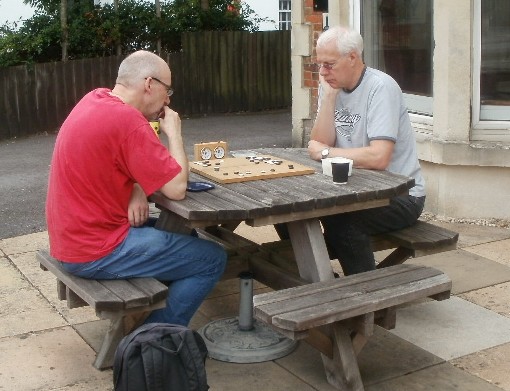 The Swindon tournament was back after a one-year break, with different premises and alternative day (Saturday). The new venue was the Swindon Conservative Club, situated in the old town, with its own free parking. Nearby is the town's museum, which provided an interesting distraction for some.
The winner was Alistair Wall (2d Wanstead), who beat Ngoc-Trang Cao in the final. Prizes were given for three wins to George Han (18k No Club) and for 2½ wins to Paul Barnard (2k Swindon).
A sportsmanship prize was awarded to Paul Smith (on left of picture), for offering a jigo to Paul Barnard when, whilst playing outside the venue, the game survived a strong wind trying to blow the stones from the table, but did not when the wind blew away a coffee cup and Paul Barnard knocked his pot of stones over the board while trying to retrieve the cup.
Christian Scarff, having awarded prizes, received a round of applause for the efforts of him and the team, which included Paul Barnard, Eric Hall on laptop, and Elinor Brooks. 6 of the 30 players were from Swindon club.
Last updated Mon Sep 26 2016. If you have any comments, please email the webmaster on web-master AT britgo DOT org.