Andrew Simons wins 5 at World Amateur Go Championship
Mon, 13/06/2016 - 23:30

—

Tony Atkins
World Amateur
Wuxi
Sun, 5 - Wed, 8 Jun 2016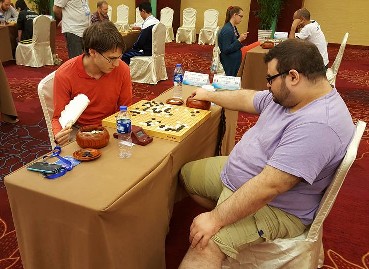 Andrew Simons (4d) ended in 21st place of 56 for the UK at the 37th World Amateur Go Championship, held in Wuxi, China, from 5th - 8th June.
In the first round he lost to Csaba Mero (6d) of Hungary, then beat Supravat Pal (1k) of India. Jet-lag and a malfunctioning alarm clock meant he overslept and forfeited his third game against Santiago Espinosa-Uribe (4d) of Colombia, but he then beat Gabriel Hissao Makio (1d) of Brazil. Next he lost to Jürgen Suntinger (3d) of Austria before beating John Gibson (5k) of Ireland (who finished on 2 wins, beating India and the Chinese ghost), Leon Rios (1d) of Peru and Emil Garcia (5d) of Mexico. Andrew said "I was pleased to get 5 wins, though my early losses and luck of the draw meant most of those were against weaker players and it wasn't until the final game I beat someone of a similar level. That was an important one to win as losing it would mean finishing down in 36th place as my SOS was atrocious. I almost managed to lose it right near the end when I offered a dangerous and unnecessary trade that my opponent fortunately declined, which caused many intakes of breath among the dozens of observers who had come to watch the conclusion of the last game of the tournament. Away from the board I had a great time in China meeting new and old friends and want to thank the IGF and our Chinese hosts for a wonderful experience."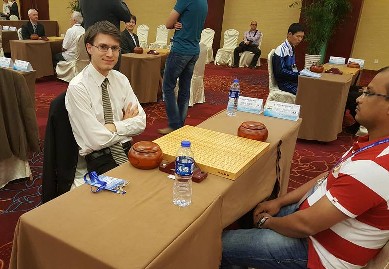 Baoxiang Bai (8d) of China won the tournament for a 2nd time with a perfect 8 wins, with Korean Kibaek Kim (6d) in second place losing only to China, and Chia Cheng Hsu (7d) of Taiwan in third losing only to China and Korea. Full results are available on the EGD
The photos show Andrew playing the player from Peru and one of him smartly dressed before playing the player from India.
Game Records (Click on the "SHOW" box)
Last updated Wed Oct 11 2017. If you have any comments, please email the webmaster on web-master AT britgo DOT org.