Alex Kent Regains Wessex Title
Sun, 30/10/2016 - 20:49

—

Tony Atkins
Wessex
Bath
Sun, 30 Oct 2016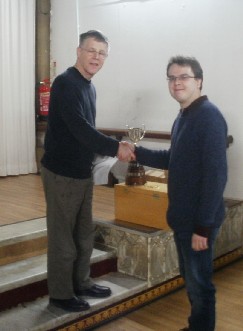 After a three year break of holding the title, Alex Kent won the Wessex title at the annual tournament at St Mark's Community Centre in Bath by beating Alistair Wall in the last round. Alex is pictured right, being congratulated by organiser Ian Sharpe, before receiving the trophy.
The drawmaster, David King, was pleased at an increase in numbers to 38 players and there were enough doughnuts to go round. Of those players, those winning a trophy and cash prize for three wins were Alan Thornton (1k St Albans), Helen Harvey (3k Manchester), young George Han (5k) and Malcolm Walker (6k).
Last updated Sun Oct 30 2016. If you have any comments, please email the webmaster on web-master AT britgo DOT org.