Harpenden Win Trophy at Their First BYGC
Tue, 21/11/2017 - 18:08

—

Tony Atkins
British Youth Championship
Aston
Sat, 18 Nov 2017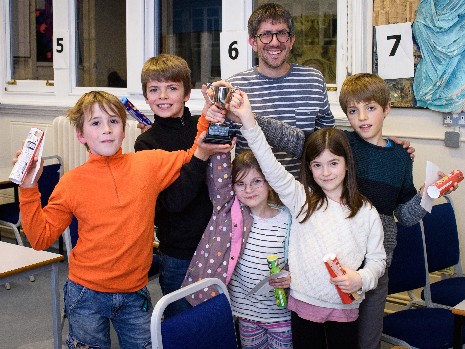 The 2017 British Youth Go Championship (BYGC) returned to King Edward VI School in Aston, Birmingham, thanks to Andrew Russell and the support of the headmaster there. It attracted a big crowd of young players, in fact 46 competitors, aged from 7 to 18.
Thanks to a large number of oriental players currently living in the UK, there were several dan-graded players, most of whom not being British played in an Open group for cash prizes. Also thanks to a new club at Harpenden Academy (who are shown celebrating their win as best primary school) and a good crop of new players from Edinburgh, Cheadle Hulme and Letchworth there was a large group between 30 and 40 kyu in strength. Some of the games they played were on 13x13.
The various sections were competed over five rounds with the draw master, Tony Atkins, and his assistant, Paul Smith, coping with all the pressures to find fair results in all categories. In addition to the age groups, the championship and the open section, there were matches between the contending clubs to determine the best teams. In addition Martin and Helen Harvey oversaw a 13x13 side event in another room to keep the quick-finishers busy.
Thanks to support from DeepMind, there were cash prizes and chocolate prizes (of course); the winners of the age groups collected annual trophies, where they have not been lost. The top winners were Jayden Ng from Bromsgrove, who won the Championship and Under-16, and Yueran Wang from Bloxham, who won the Open section for a second year. All winners are shown below and in the results.
Section Winners (runners-up and thirds, if awarded)
Youth Champion: Jayden Ng (Zaki Betesh, Tom Bradbury)
U18: Zaki Betesh (Tom Bradbury)
U16: Jayden Ng (Luke Garner)
U14: Edmund Smith (Hilary Bexfield)
U12: Lueming Yang (Jan Kudla)
U10: Zoe Walters (Elliot Grose)
U8: George Han (Auden Oliviere)
Open Champion: Yueran Wang (Jayden Ng, Bill Shen tied with Daniel Yang)
Winners of four games: Matthew Jackson, Luke Garner, Joab Isaac, Chun Yin Wong
Best School (for the Castledine Trophy): Cheadle Hulme School, beat Cambridge Chess and Go 2-1
(semi-finals Cambridge 2-1 Aston, Cheadle Hulme School 3-0 Letchworth)
Best Junior School: Harpenden Academy, beat James Gillespie's Primary (Edinburgh) 2-1
13x13 side event: 3/3 won Lueming Yang, 7 games played Velko Trifonov.
Fighting Spirit: Emily Oliviere (main event), Montgomery Ives O'Brien (13x13 side event).
Last updated Tue Jan 05 2021. If you have any comments, please email the webmaster on web-master AT britgo DOT org.