Andrew Simons Wins Again at Maidenhead
Sat, 21/01/2017 - 20:23

—

Tony Atkins
Maidenhead
Hitachi Maidenhead
Sat, 21 Jan 2017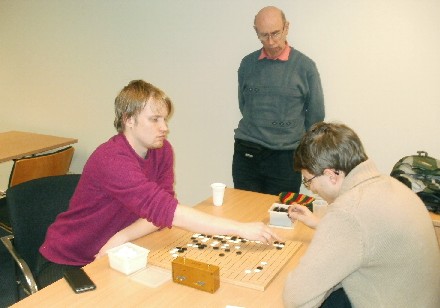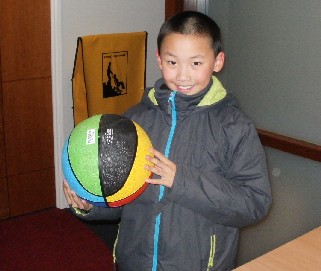 Andrew Simons won the Maidenhead-Hitachi Tournament for a second year running. The long final game, shown in the first picture, against Finland's Jesse Savo (4d) suddenly ended in overtime with an "oops" from his opponent, meaning Jesse took second place ahead of Alistair Wall.
Youngsters Roella Smith (7k Cambridge) and Lueming Yang (26k Oxford), pictured right with his prize basket ball, won all their games and Steve Bailey (7k Arundel) ended with 2.5. Both they and those on two wins went away with prizes, thanks to the generous sponsorship of Hitachi, who also provided the buffet lunch.
Joanne Leung (1d) won four games to win the 13x13 side event and Swindon won the team prize.
Last updated Tue Jan 05 2021. If you have any comments, please email the webmaster on web-master AT britgo DOT org.