UK Go Challenge Finals Held in Stoke
Mon, 10/07/2017 - 16:02

—

Tony Atkins
UK Go Challenge Finals
Stoke-on-Trent
Sat, 8 Jul 2017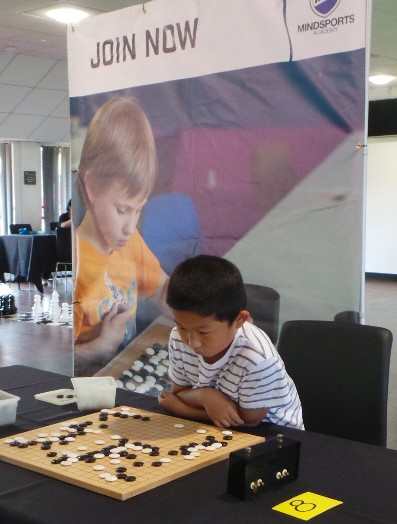 The after a gap in 2016, the UK Go Challenge Finals were back. This time the event was sponsored by Mindsports Academy (MSA) as part of their youth championship event, which meant free entry. As well as the usual certificates, all players received a MSA voucher, participant's medal and sports bag; the winner and second also received a trophy from MSA and all age group winners received a plaque from MSA too. The venue was the very pleasant function rooms of Stoke City's stadium, now called the bet365 stadium, but best known as the Britannia Stadium, which included the Stanley Matthews Bar.
14 young players took part in the Go. This turned out to be more than the Chess and Scrabble, while Bridge had no entries at all. However there was a chance for the few participants and adults too to try out the other games, with Roger Huyshe running the Go-teaching table, helped by Martin Harvey & Paul Smith.
After six rounds, ably organised by Tony Atkins, and a mix of even and handicap 13x13 games, and a few 19x19 games for the top players too, the winners in the age groups were known.
Overall winner was George Han (3k) from Northwood (London), pictured playing one of the few 19x19 games. Jason Brown (11k Cheadle Hulme) was second and Alexander Hsieh (9k Cambridge) was third. They respectively won the boys U8, U16 and U12 titles, whilst Anthony Ghica (17k Comberton, Cambridge) took the U14. Best Girl was Lizzy Pollitt (winner U14) and Megan Upton won U12 and the problem-solving, whilst Cate Howe won U16 Girls, all from Cheadle Hulme School (CHS).
The John Rickard team trophy was won uncontested by CHS, but there was no primary school team.
Last updated Tue Jan 05 2021. If you have any comments, please email the webmaster on web-master AT britgo DOT org.