Bar Low Held at London Go Centre
Wed, 09/05/2018 - 16:55

—

Tony Atkins
Bar-Low
London
Sun, 6 May 2018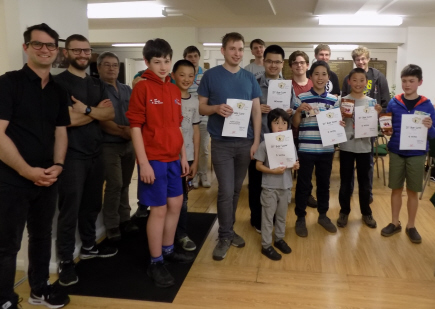 Across the May Day bank holiday weekend, the London Go Centre was host to the first round of the competition to see who gets to be British Go Champion, but more importantly on the Sunday we held the 21st Bar Low tournament, reports Gerry Gavigan.
For new readers, the tournament is an opportunity for kyu players to enjoy a competition they stand a chance of winning and to start an EGF rating. For the Bar Low, successfully meeting its objectives can be judged by the number of newcomers and the number of double digit kyu (DDK) players who enter. This year we had 29 entries ranging from 1 kyu to 24 kyu and 16 were DDK, with six newcomers.
It is a five-round class C tournament, with 25 minutes main time and Canadian overtime. It's a fairly hectic day, which relies on most people finishing their games before too many iterations of overtime. Apart from one game giving the organiser timetabling palpitations it all worked.
As a result of anonymous sponsorship, we were able to offer a number of prizes as well as certificates as seen in the photo:
Winner £25 (Peikai Xue, CLGC)
Second £15 (Michael Kyle, Manchester)
5 wins £10 (Yue Wen, CLGC, and Alexander Hsieh, Cambridge)
4 wins £5 (Lueming Yang, Oxford, and Caleb Monk, Epsom)
Best result first tournament – box of "Celebrations" chocolates (Maks Gajowniczek, CLGC)
Anyone who looked young enough to deserve them – a large bag of Galaxy counters.
[Later it was discovered Alasdair Clarke had beaten Michael Kyle in the final round and should have been second.]
Last updated Tue Jan 05 2021.
If you have any comments, please email the webmaster on web-master AT britgo DOT org.