Thu, 13/09/2018 - 18:21

—

Tony Atkins
Cornwall
Penzance
Sat, 8 - Sun, 9 Sep 2018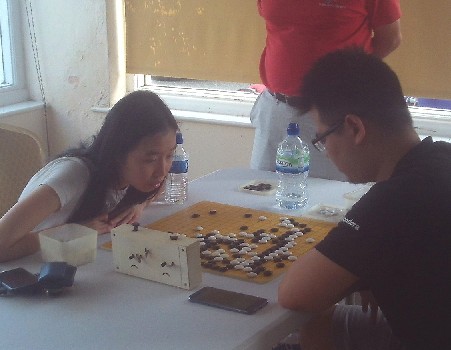 It was two students from London who dominated the 19th Cornwall Tournaments. Held in Penzance in The Lugger, as usual, the event proved attractive for those seeking a weekend away and the weather did not disappoint. However only 14 players took part in the Cornish Handicap on the Saturday afternoon, and 15 in the Open on the Sunday.
As usual the Saturday started with a teaching session in which Toby Manning, Paul Massey and Tony Atkins gave a game review, taught joseki and some of what was taught at the recent youth camp on shape. Winner of the four-round Cornish Lightning Handicap was Peikai Xue (1k), one of the students. He beat Elinor Brooks (9k Swindon) in the final, despite the handicap being the usual plus two. Results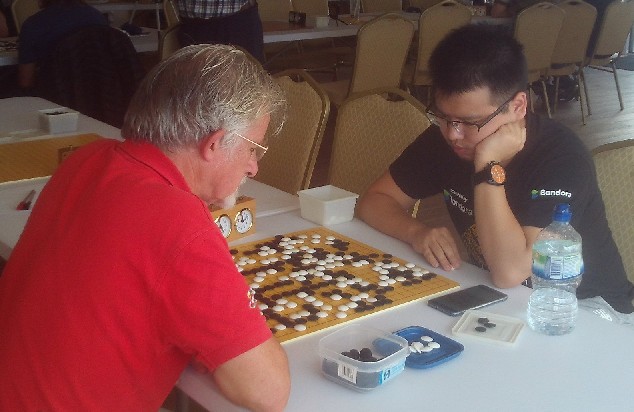 Peikai (shown right playing Toby Manning) also did well on the Sunday in the Cornish Open, meeting fellow London student Joanne Leung (1d) in the final. However it was Joanne who won the game (shown above) and the trophy. They were both rewarded with the traditional wooden Go stone prizes, but nobody else did well enough to win a prize. Results
Last updated Fri Sep 14 2018. If you have any comments, please email the webmaster on web-master AT britgo DOT org.