17 BGA volunteers demo Go all day to youngsters
Mon, 12/11/2018 - 13:17

—

Martin Harvey
Manchester DokiDoki - Japanese Festival
Manchester
Sat, 10 Nov 2018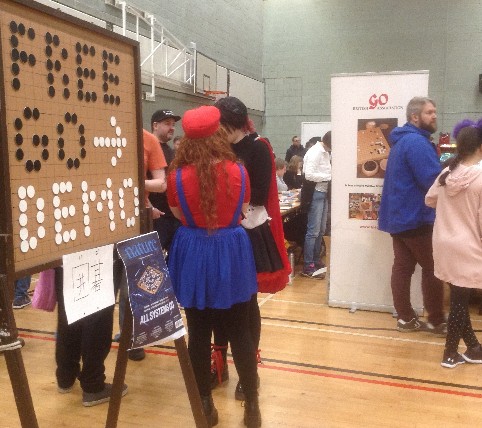 On a pleasant autumnal day, this year - as ever - the splendidly organised Doki Doki Festival was held in Manchester, helped a lot by members of the friendly Japan Society North West (JSNW).
This is an exciting event, with all imaginable Japan-themed activities, stalls & competitions, attracting a huge and youthful attendance. For each such occasion, the organisers invite us back (we're the British Go Association - BGA), to give free Go demos to large numbers of the public. As ever, we quickly accepted.
17 BGA members kept 7+ demo-boards busy, from 10am to 6pm, after setting-up of our stalls from 8am. This number helped cover us at busy times, and enabled us to take refreshment & other breaks. Our team included 4 teenagers who have enjoyed helping out on a number of such occasions, & 2 of their parents (see below for the names of all our volunteers). At the peak, an impressive 11 Go demos were in progress, simultaneously!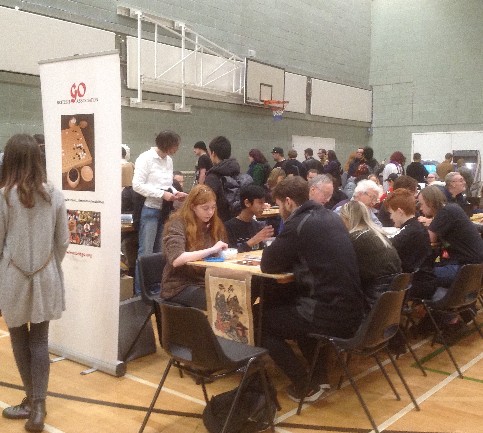 Good fun was had by volunteers & public alike. We distributed many tri-folds, with details of N-W Go clubs, thus sowing fertile Go seeds and often gaining more N-W club members.
This year we also had 9x9 beginner sets to sell or give away, and sold some N-W BGA stock of boards & stones.
Helen & Shirley provided important 'front-of-house' duties, helping to encourage public into the demos, & handling sales. In the evening, 6 of us went for a nearby Nando's meal.
Next year's DokiDoki will be extra special, because the Japanese Embassy will be involved with the promotion. Maybe the Ambassador himself might visit our stalls!
Big thanks go to all of:
Amy, Lizzy, Megan, Rohan, Daniel Milne (Manchester Uni.), Oliver Bustos Langton (Keele Uni.), Pat Ridley (Chester Go club), Teddy McManus, Kathryn Ball, Michael Kyle, Joel Barrett, Sydney Ng, Colin Ng, Helen & Martin Harvey.
Plus 2 parents:
Shirley Jones and Graham Pollitt
Last updated Tue Dec 04 2018. If you have any comments, please email the webmaster on web-master AT britgo DOT org.