Chinese Strong in Northern
Tue, 23/10/2018 - 16:31

—

Martin Harvey
Northern
Cheadle Hulme School
Sun, 21 Oct 2018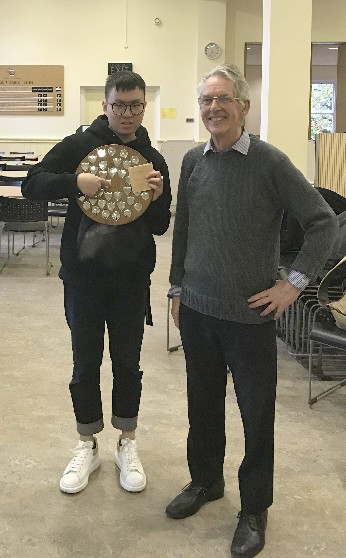 On a fine autumn day, 41 players attended this year's Northern tournament, including players from as far away as Dundee. Helen Harvey was on hand, selling items from the N-W's BGA stock of Go equipment and books. Cheadle Hulme School (CHS) once more kindly hosted the event, providing an excellent venue.
The overall winner, whose name will complete the array of mini-shields on the face of the Red Rose trophy, was Honghao Lu (2d 'Jason' from Manchester), pictured collecting the trophy and top prize of £50 from MC of the main event, Chris Kirkham. Last year's winner Yangran Zhang (3d 'Eric' from Manchester) was runner-up.
Also receiving prizes for winning all 3 games were Tom Bradbury (3k CHS), Ai Guan (4k Lancaster), Bob Scantlebury (8k, Chinley), Tony Pitchford (11k Chester), Joseph Curtis (19k CHS), and Rahul Surapaneni (28k CHS). Martin Harvey also presented modest prizes to Eden and Rohan - youngsters in the main tournament showing Fighting Spirit.
Martin ran a self-pairing 13-by-13 competition during the day, in which 8 played and he gave out 3 prizes. Playing most games were Rahul (7 games), and Sam Barnett (6 games), whilst the award for highest percentage of wins went also to Rahul, winner of an impressive 6.
All were invited to eat locally in the evening and 9 players enjoyed the option of going to an Indian restaurant.
Again we are grateful to CHS and Mike Winslow, Head of Physics, who make the main event possible.
Last updated Mon Oct 29 2018. If you have any comments, please email the webmaster on web-master AT britgo DOT org.